Appears in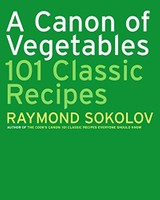 Ingredients
1½ pounds celeriac
½ cup Dijon mustard
¼ cup white wine vinegar
1 cup canola oil
1 garlic clove, peeled and pushed through a garlic press
Salt and pepper
Method
Peel the celeriac. Then cut it into the thinnest possible julienne strips.
Put the mustard in a mixing bowl. Whisk in the vinegar. Then whisk in the canola oil, starting with a very small amount and progressing to larger increments as the sauce emulsifies or thickens. This is the same technique used to make mayonnaise.
When all the oil is incorporated, whisk in the pureed garlic and salt and pepper to taste.
With a wooden spoon or spatula, stir a small amount of the julienned celeriac into the mustard sauce. Then stir in the rest. Let stand, covered, in the refrigerator for 24 hours, to soften the celeriac. Let the dish return to room temperature before serving.