Break the eggs into a bowl and remove the white squiggly clumps of albumen that often cling to the yolk; if left intact they make unattractive white streaks in an otherwise smooth, yellow sheet. Season the eggs with the rice wine, sugar, and salt. Beat just enough to break the viscous texture of the whites but try not to incorporate air as you do this. If the egg mixture gets very foamy (containing air), allow it to sit until smooth.
If you plan to use the egg sheet whole in a decorative manner, such as in Clam sushi, it's best to strengthen the omelet with the addition of a thin cornstarch paste. If, however, you're going to shred the sheets to make thin julienne strips, as in Five-Colored sushi, you need not bother. If you choose to include cornstarch, mix it with the cold water to make a thin paste, then stir this into the egg mixture to combine it well.
If you'll be using an ordinary skillet, you'll have to season it with a thin layer of oil and re-oil your pan between sheets. Instead, I recommend the use of a nonstick surface such as Teflon or SilverStone. An 8-inch skillet is best for making the larger circles; to make the small circles, I often use the bottom of a shallow saucepan. Heat your skillet or pan over medium heat.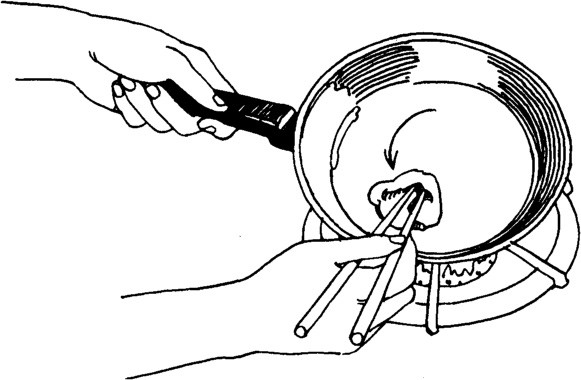 Pour about 3–3½ tablespoons full of the egg mixture into the skillet to make the larger circles about half that for the smaller ones. Measure the egg before pouring so that it's added to the pan all at once. Swirl this mixture to cover the surface of the skillet evenly. Keep it over medium heat until the edges seem to dry a bit. Remove the skillet from the source of heat and let the egg sheet cook with retained heat for another 20–30 seconds before flipping it over.
The Japanese use a single chopstick to help flip their sheets of omelet. Trace completely around the circumference of the omelet with the tip of your chopstick. Then, holding the skillet in one hand and the chopstick in the other, tilt the pan so that your hands face each other. Insert the tip of your chopstick just under the edge of the omelet, and alternate twirling motions with back-and-forth strokes, to work your way across to the other side of the pan. Lift the omelet, draped over the chopstick, and lay it back in the pan, inverted. Allow the other side to dry off (at most 30 seconds' additional exposure to heat), then flip it out of the skillet. Continue to make the omelets, in the same manner, stacking them as you go. Thin omelets such as these will keep for 5 days, covered and refrigerated.