Cut the cabbage into very fine shreds and place them in a glass bowl. Toss the cabbage shreds with 2 teaspoons of salt and let them sit for 5 minutes.
Wash the cucumber well and slice off about ½ inch from the stem (darker green) end. Using this stem piece, rub the cut surface in circular motions until a thick white foam appears; rinse it away and pat the cucumber dry. This is what the Japanese call aku nuki or "bitter-ness removal." Trim off the opposite (light-colored) end, then slice the cucumber in half, lengthwise. Scoop out any seeds with a small spoon. Place the two cucumber halves on your cutting board, cut side down. Slice into very thin half-moons. Place these in a small glass bowl with the remaining ½ teaspoon of salt and toss to mix well.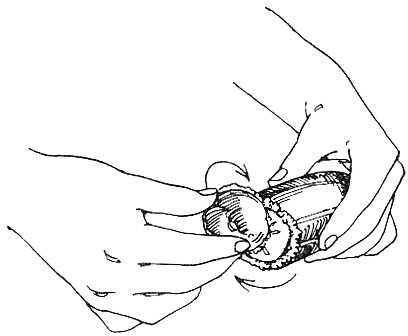 Squeeze and toss the cabbage, keeping whatever liquid (brine) it exuded during the 5 minutes. When the cabbage is well wilted, combine it and its brine with the sliced and salted cucumbers. Continue to squeeze and toss the vegetables until limp and well mixed. Save all the briny vegetable liquid.
The vegetables need to be weighted down for several hours. Traditionally large flat stones were used; more recently the Japanese have developed a special pot with a screw-top device, called a shokutaku tsukemono ki. However you can create your own weighted jar with books, bricks, or even potatoes. Choose weights that are slightly smaller than the diameter of your container. Whatever you choose to use will sink down below the level of brine and get wet, so they must be wrapped in plastic first. You'll need 5–8 pounds of pressure to make this salad.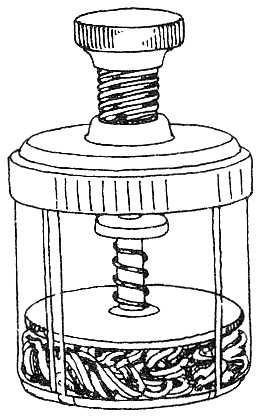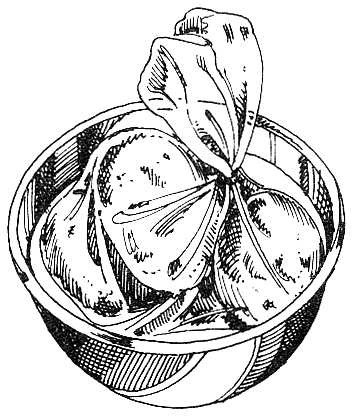 If you're using the special jar, place the vegetables and brine in the bottom of it and screw the lid on as snugly as possible. Check after 15–20 minutes to see if the screw needs tightening. In all, you'll need to pressure your vegetables for only 45–60 minutes. If you're devising your own weights, place the vegetables and brine in a glass or ceramic container and lay a flat plate over all; the plate must be an inch or so less in diameter than the bowl. On top of this plate, place your weights wrapped in waterproof material. Allow these weights to sit for 2–3 hours, undisturbed.
If you plan on making this salad several days in advance, store the vegetables in their brine. Just before serving, or packing into your picnic basket, rinse the vegetables under cold water and drain. Squeeze to make sure no water remains. Toss the vegetables in a few drops of soy sauce for a more robust flavor, if you like.