Peel the radish and save the peels for making the sauté, if you like, or discard. Slice the radish into very fine julienne strips. Place the radish shreds in a glass bowl and sprinkle the salt over them, tossing to distribute well. Set the radish aside to ''sweat" for 5–10 minutes. Squeeze out all the liquid from the salted radish, reserving this brine for later use. Place the radish in a bowl and set it aside while you shred the herb leaves.
Rinse the shiso leaves and shake dry. Trim off the stems, then slice the leaves in half, lengthwise. Stack these and, cutting across the grain, slice the herb into very fine julienne shreds.
Mix the radish with the shredded shiso. The vegetables need to be weighted down for several hours. Traditionally large flat stones were used; more recently the Japanese have developed a special pot with a screw-top device, called a shokutaku tsukémono ki. However you can create your own weighted jar with books, bricks, or even potatoes. Choose weights that are slightly smaller than the diameter of your container. Whatever you choose to use will sink down below the level of brine and get wet, so they must be wrapped in plastic first. You'll need at least 8 pounds of pressure to make this salad, and preferably 10–12.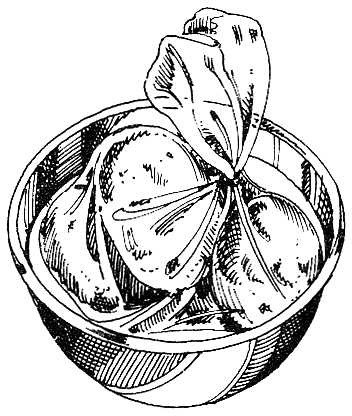 If you're using the special jar, place the vegetables and brine in the bottom of it and screw the lid on as snugly as possible. Check after 15–20 minutes to see if the screw needs tightening. In all, you'll need to pressure your vegetables for only 45–60 minutes. If you're devising your own weights, place the vegetables and brine in a glass or ceramic container and lay a flat plate over all; the plate must be an inch or so less in diameter than the bowl. On top of this plate, place your weights wrapped in waterproof material. Allow these weights to sit for 3 hours, undisturbed.
If you wish to keep this salad for a day or two, refrigerate it, unpressured but in its brine, covered. Just before serving, drain off the brine. Quickly rinse the radish and shiso mixture under cold running water, drain, and squeeze dry immediately. Divide the mixture into four portions and gently coax each into a mountain shape.