Trim the steaks of any excess fat, if necessary (these trimmings can be melted down and used instead of oil). Cut the green peppers in quarters and remove the seeds or wash and pat dry the okra pods. Soak the bean sprouts in a bowl of cold water for a few moments, then drain them well. Discard any badly bruised or discolored sprouts, as these will be bitter.
Prepare your dipping sauce and condiments before cooking your meat and vegetables. Each diner should be given a small, shallow bowl. Into each bowl pour a generous tablespoon of soy sauce, thinned out with a few drops of soup stock. Peel the radish and poke several holes in it, then break open the dried red pepper pod and remove all the seeds. Stuff pieces of the red pepper into the holes you made in the radish and grate it. The white will be flecked with red (the Japanese call this condiment momiji oroshi or "autumn maple leaves") and the mild radish is given a fiery accent. Drain off any excess liquid that may accumulate as you grate and mound the momiji oroshi in a shallow bowl, surrounding it with lemon or lime wedges. When eating, each person adds lemon juice and/or fiery grated radish to taste to his own dipping sauce.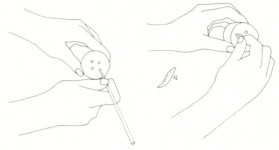 Use a heavy, cast-iron skillet, and oil it lightly. Over high heat, sear the steaks on both sides (you can lower the heat and cook a few moments longer if you like your meat medium done). The Japanese slice their steak into ½-inch-thick strips just before removing it from the skillet, which makes for easier chops tick eating later.
Remove the steak strips to a warmed platter or individual plates and lightly cover with aluminum foil to keep it warm while you cook the vegetables. Stir-fry the green peppers for 2 minutes or the okra for 3 minutes. Next stir-fry the bean sprouts for a minute, adding a bit more oil to the skillet if necessary. Serve the vegetables with the meat.