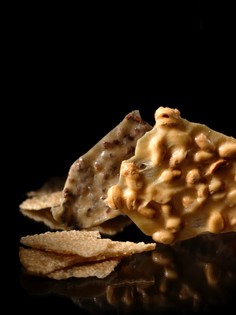 Ingredients
Sugar
790
g
28
oz
29
%
Water
340
g
12
oz
13
%
Glucose syrup
570
g
20
oz
21
%
Raw peanuts
910
g
32
oz
34
%
Butter
60
g
2
oz
2
%
Vanilla extract
15
g
0.5
oz
1
%
Salt
2
tsp
2
tsp
<1
%
Baking soda, sifted
10
g
1¾
tsp
<1
%
Batch Size
2695
g
95
oz
100
%
Method
Combine the sugar and water in a heavy saucepan. Bring to a boil while stirring.
Add the glucose syrup and continue cooking to 115°C/239°F without stirring.
Add the peanuts and cook to 155°C/311°F over moderate heat, stirring constantly.
Remove from the heat and add the butter, vanilla extract, and salt and mix well. Add the baking soda and stir well to incorporate.
Pour the mixture onto an oiled marble slab and spread to approximately 6 mm/¼ in thick with an offset palette knife.
If desired, when the brittle cools to a plastic consistency, pull into thin sheets to make a more delicate candy.
When cooled completely, break into pieces and store protected from humidity.