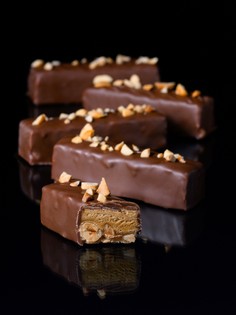 Ingredients
Peanut Butter Nougat
Milk powder, crushed
80
g
3
oz
4
%
Confectioners' sugar
80
g
3
oz
4
%
Peanut butter
350
g
12
oz
16
%
Glucose syrup
100
g
4
oz
5
%
Egg whites
60
g
2
oz
3
%
Vanilla extract
20
g
1
oz
1
%
Sugar
580
g
21
oz
27
%
Glucose syrup
450
g
16
oz
21
%
Molasses
220
g
8
oz
11
%
Water
180
g
6
oz
8
%
Batch Size
2120
g
76
oz
100
%
Method
To Make the Peanut Butter Nougat
Sift together the milk powder and confectioners' sugar.
Heat the peanut butter over a water bath until it is hot and fluid.
Combine the 100 g of glucose syrup, egg whites, and vanilla extract in the bowl of a 5-qt planetary mixer with a whip attachment. Mix until just combined, but do not begin whipping.
Combine the 580 g of sugar, the 450 g of glucose syrup, molasses, and water in a saucepan. Cook the mixture to 112°C/234°F.
Begin whipping the egg white mixture on high speed. When the sugar mixture reaches 122°C/252°F, remove from the heat.
Stream the hot syrup into the whipping whites. Continue whipping on high speed for 4 minutes.
Remove the whipped whites from the mixer. Using a wooden spoon, fold in the dry ingredients.
Add the melted peanut butter and mix well.
Spread the nougat into a frame 12 × 24 × ⅜ in set on oiled parchment paper. Allow to cool completely.
Place another frame 12 × 24 × ⅜ in on top of the one containing the nougat.
To Make the Caramel
Combine the 680 g of sugar, evaporated milk, cream, and vanilla bean and its seeds in a saucepan. Bring to a boil, stirring constantly.
Add the 570 g of glucose syrup and continue cooking over medium heat, while stirring, until the mixture reaches 110°C/230°F. Add the butter.
Cook while stirring until the mixture reaches 115°C/239°F (see Note). Add the salt, remove from the heat, remove the vanilla bean, and add the peanuts. Stir to combine.
Spread the mixture immediately into the frame on top of the peanut butter nougat. Allow to cool to room temperature.
To Complete the Peanut Butter Goodness Bars
Precoat the caramel side of the slab with the tempered milk chocolate. Cut into bars 19 mm × 8 cm/¾ × 3 in, using a chef's knife.
Enrobe each bar in the tempered milk chocolate. Before the chocolate sets, use a 3-prong dipping fork to make diagonal waves on each bar. Garnish with chopped toasted peanuts.