Appears in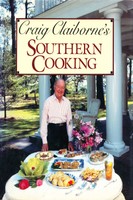 Ingredients
5 pounds meaty chicken bones
2 cups coarsely chopped onion
½ pound carrots, coarsely chopped (about 2 cups)
1 cup coarsely chopped celery
1 garlic clove, peeled
10 sprigs fresh parsley
1 bay leaf
½ teaspoon dried thyme
10 whole black peppercorns
16 cups water
Method
Put the chicken bones in a large stockpot and cover with water. Bring to the boil and drain, discarding the water. Rinse the bones thoroughly and return to the stockpot.
Add the remaining ingredients, including 16 cups water, and bring to the boil. Reduce the heat so the stock simmers slowly. Cook for 2 hours, skimming fat and scum from the surface every 15 or 20 minutes.
Strain the stock though a fine sieve into a large bowl. Let cool, and then cover and refrigerate.
Remove the fat from the top of the stock with a slotted spoon. Use the clear stock as needed.