Appears in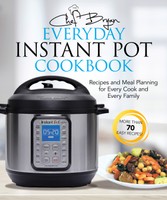 Ingredients
6 Klondike potatoes, cut into ¼-inch slices
1 tsp. seasoned salt
2 tsp. black pepper
1 tbsp. Italian seasoning herb blend
⅓ cup finely minced onion
2 tbsp. olive oil
1 cup vegetable stock
Method
Rinse already sliced potatoes.
In a large bowl, combine sliced potatoes, seasoned salt, black pepper, Italian seasoning, minced onion, and olive oil. Toss to coat potatoes slices.
Spray one large 32-ounce ramekin or three to four smaller (4-ounce) ramekins with vegetable spray. Fit the prepared potatoes into the ramekins.
Place steam rack inside Instant Pot. Pour in vegetable stock. Transfer prepared potatoes into Instant Pot and secure the lid.
Pressure cook on high for 6–8 minutes, depending on how large you have cut the potato slices (thicker slices require longer cooking time). I like Klondike variety potatoes, because I don't need to peel them.
When pressure cooking is finished, release pressure using quick-release method.
Serve with your favorite main dish.