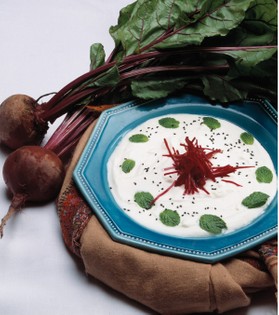 Ingredients
2½ pounds (1.1 kg) uncooked beets, or 1 can (16 oz/450 g) cooked beets, drained
2 tablespoons sugar
1 cup (240 g) plain yogurt
Method
To cook the beets: Place them in a medium-sized baking dish, add 3 cups of water and the sugar. Bake the beets in a 350°F (180°C) oven for about 1½ to 2 hours (depending on size) or until tender.
Peel and cut the beets (slices or cubes according to your fancy). If using canned beets, be sure to drain and rinse.
Place the yogurt in a serving bowl or platter and chill in the refrigerator.
Just before serving add the beets to the yogurt and garnish with mint and sesame seeds. Mix the beets gently with the yogurt as you serve (do not overmix or homogenize). Nush-e Jan!