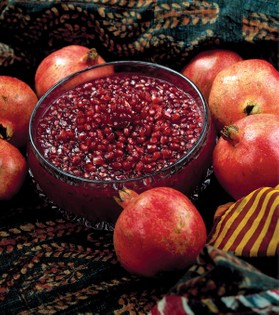 Ingredients
4 envelopes unflavored gelatin
4 cups (960 ml) freshly squeezed or bottled pomegranate juice*
2 tablespoons sugar or honey (if pomegranates are too sour)
2 tablespoons fresh lime juice (if pomegranates are too sweet)
Seeds of 4 fresh pomegranates
Method
In a large bowl, thoroughly dissolve the unflavored gelatin in 1 cup/240ml cold pomegranate juice by stirring well. Let stand for 1 minute.
In a saucepan, warm 3 cups/720ml pomegranate juice.
Add the softened gelatin to the saucepan. Stir constantly for 5 minutes.
Adjust to taste by adding sugar or lime juice. Pour the pomegranate juice mixture into a laminated mold or a bowl. Allow to cool.
Scatter the pomegranate seeds on top of the mixture. Chill it in the refrigerator until firm.
Serve pomegranate jelly with whipped cream, ice cream, or drained yogurt, and garnish with pistachios. Nush-e Jan!