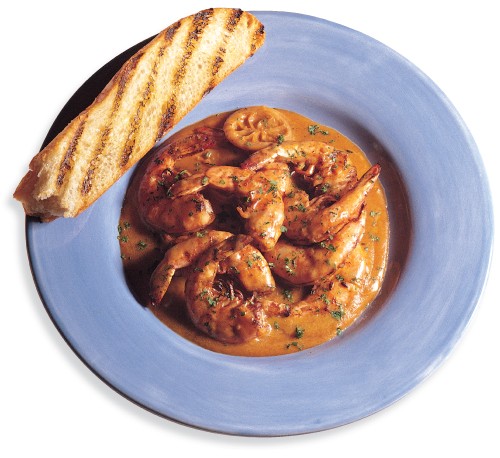 Ingredients
2 pounds extra-large shrimp in their shells (about 48)
1 teaspoon cayenne pepper
1 teaspoon dried thyme
1 teaspoon dried oregano
1 teaspoon crumbled dried rosemary
1 teaspoon garlic powder
Coarse salt and black pepper
2 tablespoons olive oil
12 tablespoons (1½ sticks) butter
3 cloves garlic, minced
¾ cup bottled clam broth
¾ cup heavy cream
¾ cup beer
2 tablespoons Worcestershire sauce
2 tablespoons cane syrup, such as Steen's, or corn syrup, such as Karo, or more to taste
1 to 2 tablespoons hot sauce, such as Tabasco or Crystal, or more to taste
1 slice lemon (¼ inch thick), with rind but seeds removed
1½ tablespoons lemon juice, or more to taste
2 teaspoons sweet paprika
2 tablespoons chopped fresh flat-leaf parsley
Crusty bread (grilled; optional), for serving
You'll Need
12 two-pronged skewers or 24 slender bamboo skewers, soaked for 1 hour in cold water to cover, then drained
Method
Rinse the shrimp under cold running water and then drain and blot dry with paper towels. Cut the shrimp down the back and remove the veins as shown in Preparing the Shrimp, Steps 1 and 2. Place the shrimp in a large mixing bowl.
Make the rub: Place the cayenne, thyme, oregano, rosemary, and garlic powder in a small bowl. Add 2 teaspoons salt and 1 teaspoon black pepper and stir to mix. Sprinkle all but 2 teaspoons of this mixture over the shrimp and toss to mix. Be sure to sprinkle a little rub into the cuts in the shells. Pour the oil over the shrimp and toss to mix. Let stand in the refrigerator, covered, for 40 minutes, while you make the sauce and build the fire.
Make the sauce: Melt the butter in a large nonreactive saucepan over medium heat. Add the garlic and cook until fragrant, but not brown, 2 minutes. Stir in the clam broth, cream, beer, Worcestershire sauce, cane syrup, hot sauce, lemon slice and juice, paprika, a little salt and pepper, and the reserved rub. Let the sauce simmer briskly, uncovered, until thick and flavorful, 10 to 15 minutes. Remove and discard the lemon slice. Taste for seasoning, adding cane syrup, hot sauce, salt, and/or pepper as necessary; the sauce should be highly seasoned (see Notes).
Set up the grill for direct grilling ( for charcoal or for gas) and preheat to high. Thread the shrimp onto skewers as shown in Step 3. When ready to cook, place the kebabs on the hot grate and grill until just cooked, 2 to 3 minutes per side, turning with tongs. When the shrimp are cooked, they'll be firm and white, with bright pink shells.
Unskewer the shrimp into individual soup bowls or one large bowl. Pour the sauce over the shrimp and toss to coat. Sprinkle with the parsley and serve with plenty of crusty bread (see Notes) for mopping up the sauce.