Appears in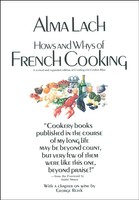 Ingredients
6 whole trout (about ½ pound each)
½ pound sole or pike fillets
1 teaspoon minced chives or green onion tops
1 teaspoon chopped parsley
4 egg whites
3 tablespoons crème fraîche or whipping cream
½ teaspoon salt
Dash of white pepper
1 tablespoon chopped truffles
Melted butter
Radish roses and watercress
Method
Trout must be boned. Use a thin, sharp knife. Put fish on its back. Insert knife at the gills, between the backbone and the flesh. Following the bones, pull the knife up to the end of the bones at the belly incision thus separating flesh from bones. Do each side, then with your fingers pull the backbone and ribcage out. Some dorsal fin bones will pull out too. Cut this bony belly cage off at the end of the belly incision, leaving the tail bone in the tail meat of the trout. Deboning is not difficult, but it is tricky. Most of all you need a thin, sharp knife. Heat oven and broiler pan to 425 degrees.
Blend sole, chives, and parsley in blender container. Add egg whites, 1 at a time, blending after the addition of each. Add crème and seasonings. Put mixture into bowl, then stir in truffles. Lay trout on their sides. Dry cavities of fish with paper towels and then spoon sole mixture into each.
Coat hot broiler rack with melted butter. Lay trout, on their sides, on rack. Drizzle with melted butter. Bake in 425-degree oven for about 20 minutes. Do not -turn. When done, skin the top side, lift to hot platter, and decorate platter with radish roses and watercress. Serve with Hollandaise-Sabayon sauce, or Mousseline sauce. Make sauce before cooking trout.
,