Appears in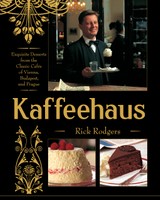 Ingredients
4 large eggs, at room temperature
¾ cup sugar
3 tablespoons milk
3 tablespoons vegetable oil
½ teaspoon vanilla extract
⅔ cup sifted cake flour
½ teaspoon salt
Method
Position a rack in the center of the oven and heat to 350°F. Butter a 9-inch springform pan, and line the bottom with a round of parchment or wax paper. Dust the inside of the pan with flour, tapping out the excess flour.
Combine the eggs and sugar in the bowl of a heavy-duty electric mixer. Place the bowl over a medium saucepan of simmering water over medium heat (the water should not touch the bowl). Whisk until the eggs are very warm to the touch and the sugar is dissolved (rub a bit of the egg mixture between your fingers to check for grains of sugar). Attach to the mixer and fit with the whisk. Beat on medium-high speed until the mixture is tripled in volume and very light and fluffy, about 3 minutes.
Meanwhile, in a small saucepan, heat the milk and vegetable oil until hot to the touch (about 120°F). Pour into a medium bowl and stir in the vanilla.
Sift the cake flour, cocoa, and salt together. Sift half of the cocoa mixture over the egg mixture. Using a large balloon whisk, fold it in. Sift the remaining cocoa mixture over the batter and fold it in. Whisk a large dollop of the batter into the milk mixture. Fold this mixture back into the batter. Pour into the pan and smooth the top.
Bake until the top springs back when pressed in the center and the sides are barely beginning to shrink from the pan, about 30 minutes. Cool on a wire rack for 5 minutes. Remove the sides of the pan, invert onto the rack, and remove the bottom of the pan and the paper. Reinvert the cake onto another rack, right side up. Cool completely.