Assemble Tamales
PREPARE OJAS (CORN HUSKS): Soak corn husks in water for an hour before using, rinse well with running water to take off any dust or corn husk fibers. To keep corn husks pliable and easy to work with, keep in water while filling tamales. Place a handful of wet corn husks in a colander to drain before using.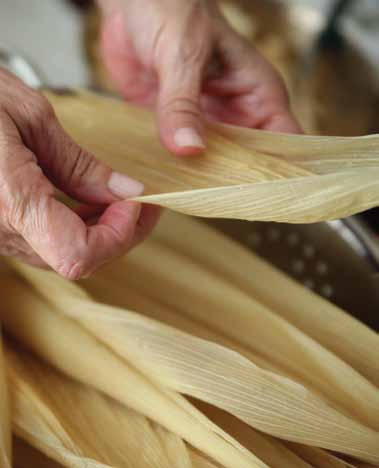 SPREAD MASA: Place the wide end of the husk on the palm of your hand, narrow end is at the top. Starting at the middle of the husk spread 2 tablespoons of the masa with the back of a spoon in a rectangle or oval shape, using a downward motion towards the wide-bottom edge. Do not spread the masa to the ends; leave about a 2-inch border on the left and right sides of the husk.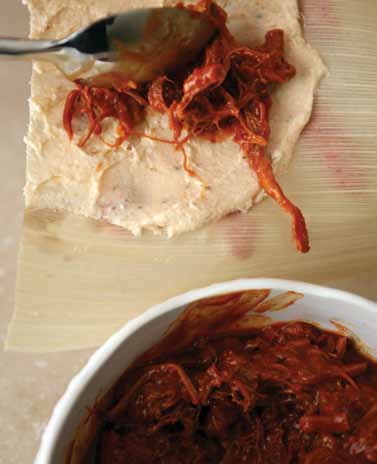 FILL CORN HUSKS: Spoon 1½ tablespoons of your chosen filling down the center of the masa. Fold both sides to the center; finish off by bringing the pointed end of the husk toward the filled end. Make sure it's a snug closure so the tamal will not open during steaming. Secure by tying a thin strip of corn husk around the tamal. This will keep the tamal from unwrapping during the steaming process, especially if the husk is too thick and will not stay folded.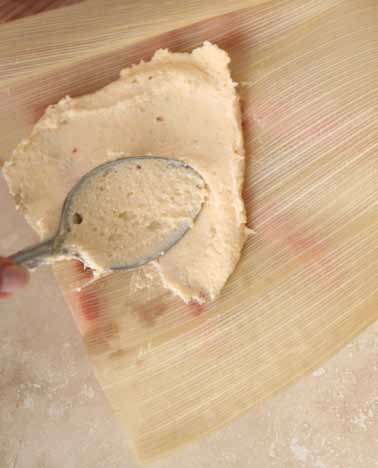 STEAM TAMALES: Use a deep pot or tamale steamer to steam tamales. If using a tamale steamer fill with water up to the fill line. Set the tamale rack over the water. Place tamales upright, with fold against the sides of the other tamales to keep them from unfolding. Cover pot with a tightly fitting lid. Set heat on high and bring to a boil, about 15 minutes. Lower heat and simmer for 2½ to 3 hours. Keep lid on tightly. To test if done, put one tamal on a plate and take off the corn husk. If it comes off without sticking to the tamal they are done.