Appears in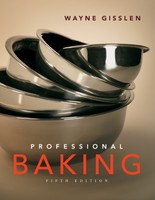 Ingredients
Sugar/4.5 oz/112 g
Water/0.6 oz/15 g
Apricots, fresh or canned, halved and pitted/5 oz/125 g
Pectin/0.4 oz/10 g
Glucose/0.5 oz/12 g
For large-quantity measurements.
Sugar/1 lb 2 oz/450 g
Water/2.5 oz/60 g
Apricots, fresh or canned, halved and pitted/1 lb 4 oz/500 g
Pectin/1.5 oz/40 g
Glucose/2 oz/50 g
Method
Procedure
Combine the sugar and water in a saucepan and bring to a boil to dissolve the sugar and make a syrup. Cook to 221°F(105°C).
Cut the apricot halves into halves or thirds, depending on size. Add to the syrup. Cook an additional 15–17 minutes if the apricots are fresh, about 3 minutes if canned.
Add the pectin and glucose and mix in well. Cook an additional 3 minutes.