Appears in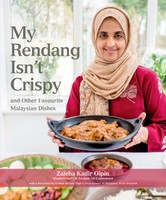 Ingredients
Using freshly grated coconut
200 g (7 oz) freshly grated coconut
Using desiccated coconut
400 g (14⅓ oz) desiccated coconut
3–4 Tbsp vegetable oil
Method
This is typically made using freshly grated coconut where it is available, but desiccated coconut makes an acceptable substitute. If using the latter, you will need to toast it with 3–4 Tbsp vegetable oil.
Heat a non-stick pan over medium heat. Add the coconut (and oil, if using desiccated coconut) and stir continuously with a wooden spoon for 10–12 minutes, until the coconut turns golden brown.
Use a mortar and pestle to pound the toasted coconut until it turns into a dark, oily and coarse paste.
The toasted grated coconut can be used immediately. Store any excess in an airtight jar. It will keep for several months. I usually make a big batch and store it in the freezer.