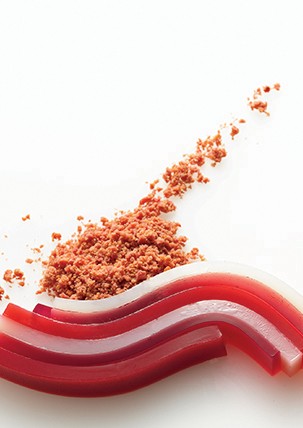 Appears in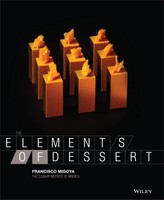 Ingredients
Litchi purée 140 g 4.94 oz 69.51%
Water 40 g 1.41 oz 19.86%
Sugar 20 g .71 oz 9.93%
Gellan gum, low acyl 1 g .05 oz .7%
Method
Make a rectangular frame (stainless-steel bars or plastic) that measures 9 cm/3.5 in long by 5 cm/2 in wide by 1.25 cm/.5 in deep over a flat surface (see Resources).
Combine all of the ingredients in a small sauce pot using a whisk. Bring to a boil and then pour the liquid into the prepared frame. Let it set in the refrigerator.
Once it is set, remove the frame using the back of a paring knife, and cut with a sharp thin slicing knife vertically into slices .75 cm/.25 in wide.
Reserve in the refrigerator covered with plastic wrap. Discard after 36 hours.
,