Appears in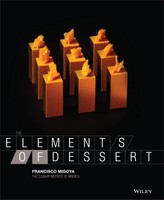 Ingredients
Rose Petal Purée
Rose petals (about 6 roses) 90 g 3.17 oz 23.38%
Water 250 g 8.82 oz 64.94%
Sugar 40 g 1.41 oz 10.39%
Lemon juice 5 g .18 oz 1.3%
Sponge Cake
Butter, melted 110 g 3.88 oz 10.89%
Eggs 100 g 3.53 oz 9.9%
Rose petal purée 220 g 7.76 oz 21.78%
Crème fraîche 30 g 1.06 oz 2.97%
Elderflower liqueur 50 g 1.76 oz 4.95%
Sugar 240 g 8.47 oz 23.76%
All-purpose flour 220 g 7.76 oz 21.78%
Beet powder 30 g 1.06 oz 2.97%
Baking powder 10 g .35 oz .99%
Method
For the rose petal purée: Simmer the rose petals in the water until the roses are tender, about 15 minutes.
Add the sugar and lemon juice and simmer for an additional 5 minutes.
Purée in a blender until smooth. Cool in an ice water bath. If not using right away, reserve in an airtight container in the refrigerator. Discard after 4 days.
For the sponge cake: Lightly spray a half sheet pan with nonstick oil spray. Line it with a nonstick rubber mat.
Preheat a convection oven to 160°C/325°F.
Make sure all liquids (butter, eggs, rose petal purée, crème fraîche, elderflower liqueur) are at 21°C/70°F.
Sift the dry ingredients together.
Whisk the butter into the eggs in a bowl large enough to fit all the ingredients in the recipe. Pour the butter in slowly while whisking to create an emulsion.
Whisk in the rose petal purée, crème fraîche, and elderflower liqueur.
Stir in the dry ingredients. Mix until just combined and you have obtained a homogenous mass.
Pour into the prepared sheet pan and even it out using an offset spatula.
Bake for 12 to 15 minutes. Test for doneness with a toothpick or alternatively, press the center of the cake with your fingers; if it springs back, it is done.
Let the cake cool at room temperature.
Place the cake in a dehydrator set to 65°C/150°F. Once it is dry, after 3 to 4 hours, break it up into pieces and grind in a Robot Coupe until finely ground cake crumbs are obtained. If they feel slightly wet, return the crumbs to the dehydrator to dry completely.
Once they are dry, reserve them in an airtight container in a cool, dry place. Discard after 4 days.