Appears in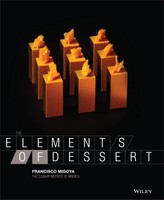 Ingredients
Bacon-Infused Milk
Milk 1 kg 2 lb 3.2 oz 58.82%
Slab bacon, cut into 2.5-cm/1-in cubes, fat rendered off 250 g 8.82 oz 14.71%
Ham hock 450 g 15.87 oz 26.47%
Ice Cream
Bacon-Infused Milk 650 g 1 lb 6.88 oz 65%
Heavy cream 87 g 3.09 oz 8.75%
Powdered milk 40 g 1.41 oz 4%
Sugar 150 g 5.29 oz 15%
Ice cream stabilizer 3 g .09 oz .25%
Egg yolks 70 g 2.47 oz 7%
Method
For the bacon-infused milk: Combine all of the ingredients in a sauce pot. It needs to be small enough to hold the bacon and the hock completely submerged in the milk.
Bring to a boil over high heat, then turn the heat down to a simmer for 2 minutes. Turn off the heat and cover the pot. Let the bacon and hock infuse for 30 minutes.
Strain the bacon and hock out of the milk. Cool the milk and proceed with the ice cream base.
For the ice cream: Follow the modern ice cream method. Reserve the base in the refrigerator until ready to churn.