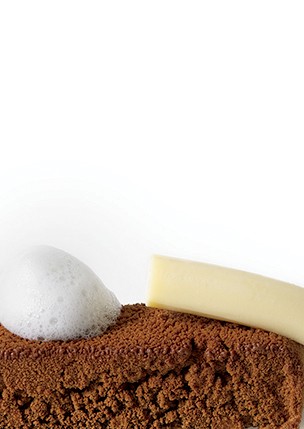 Appears in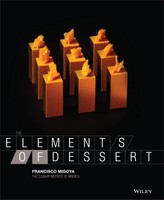 Ingredients
Chocolate Soil
Sugar 50 g 1.76 oz 26.32%
Almond flour 50 g 1.76 oz 26.32%
All-purpose flour 30 g 1.06 oz 15.79%
Cocoa powder 22 g .78 oz 11.58%
Butter, melted and cooled 35 g 1.23 oz 18.42%
Salt 3 g .11 oz 1.58%
Espresso Bombe
Egg yolks 160 g 5.64 oz 15.24%
Sugar 1 105 g 3.7 oz 10%
Heavy cream 1 70 g 2.47 oz 6.67%
Instant coffee 10 g .35 oz .95%
Gelatin sheets, silver, bloomed in cold water, excess water squeezed off 5 g .18 oz .48%
Heavy cream 2 500 g 1 lb 1.6 oz 47.62%
Sugar 2 100 g 3.53 oz 9.52%
Chocolate Soil 100 g 3.53 oz 9.52%
Method
For the chocolate soil: Preheat a convection oven to 160°C/325°F.
Line a sheet pan with parchment paper.
Combine all of the ingredients in a bowl to obtain a homogenous mass.
Spread out evenly on the prepared sheet pan. Some of the mixture will accumulate in clusters, but that is the intention.
Bake until aromatic and toasted, about 8 minutes. Cool at room temperature. Reserve in an airtight container at room temperature. Discard after 2 weeks.
For the espresso bombe: Line 10 molds that measure 2.5 cm/1 in wide by 7.5 cm/3 in long by 2.5 cm/1 in high with acetate. Place them on a flat sheet pan lined with a nonstick rubber mat.
Combine the egg yolks with the first amount of sugar over a hot water bath. Stirring with a whisk, bring the yolks up to 57°C/135°F. Transfer to the bowl of an electric mixer fitted with a whip attachment and whip until the yolks have quadrupled in volume.
Meanwhile, combine the first amount of cream with the instant coffee and the gelatin in a bowl. Stir over a hot water bath to dissolve the gelatin and the coffee. Do not let this mixture get too hot; it should be just hot enough to melt the gelatin and dissolve the coffee.
Meanwhile, whip the second amount of cream with the second amount of sugar to medium-soft peaks.
Whisk the cream-coffee-gelatin mixture into the pâte à bombe (egg yolk mixture).
Fold one-quarter of the whipped cream into this mixture to soften it, then fold in half of the whipped cream. When that is incorporated, fold in the remaining whipped cream. Finally, fold in the chocolate soil.
Transfer the bombe mixture to a piping bag and pipe into the prepared molds. Even out the top with an offset spatula and freeze.
Once they are frozen, remove them from their molds and take off the acetate. Reserve covered in an airtight container in the freezer; discard after 3 weeks.
,