Appears in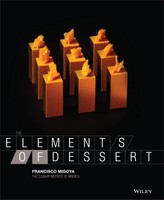 Ingredients
Black currant fruit purée 250 g 8.82 oz 82.51%
Sugar 50 g 1.76 oz 16.5%
Methocel A7C 3 g .11 oz .99%
Method
Cut a sheet of acetate into 10 rectangles measuring 5 cm/2 in wide by 7.5 cm/3 in long.
Turn a dehydrator on to 65°C/149°F.
Pour the fruit purée into a blender cup and turn it on medium speed. Add the sugar and blend for a few seconds.
Pour in the Methocel A7C as the blender is mixing. Shear for 45 seconds.
Spread the purée onto the prepared acetate rectangles in a thin, even layer using a small offset spatula. Transfer to the dehydrator and let it dry for at least 4 hours or until it is completely dried.
Reserve in the dehydrator during service to ensure that it will be crisp.
,