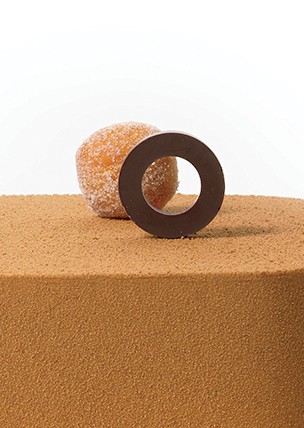 Appears in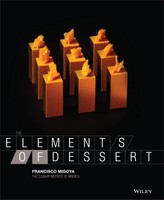 Ingredients
Cake flour 280 g 9.88 oz 18.67%
Almond flour 130 g 4.59 oz 8.67%
Baking powder 20 g .71 oz 1.33%
Eggs 320 g 11.29 oz 21.33%
Brown sugar 275 g 9.7 oz 18.33%
Instant coffee powder 10 g .35 oz .67%
Milk 210 g 7.41 oz 14%
Canola oil 255 g 8.99 oz 17%
Dark chocolate 300 g 10.58 oz
Method
Preheat a convection oven to 160°C/325°F.
Lightly grease the inner border of a full sheet pan with nonstick oil spray and then line it with a nonstick rubber mat.
Sift the cake flour, almond flour, and baking powder together.
Combine the eggs, brown sugar, and instant coffee powder in the bowl of an electric mixer fitted with the whip attachment. Whip until the mixture reaches the ribbon stage.
Stop the mixer and add one-quarter of the milk. Mix for a few seconds on low speed, and then add one-quarter of the dry ingredients and mix on low speed for a few seconds. Continue this way, alternating both items until they are both completely mixed.
Slowly stir in the canola oil. Pour into the prepared sheet pan and, using an offset spatula, spread to even it out.
Bake until done, 12 to 15 minutes or until it springs back at the center of the cake when gentle pressure is applied with the fingertips.
Cool at room temperature and then freeze the cake.
Once hardened, turn it onto a cutting board, remove the rubber mat, and apply a thin layer of dark chocolate using a paint roller. Let the chocolate harden and then cut out 4 squares measuring 17.5 cm/7 in on each side by 1.25 cm/.5 in thick.
Reserve frozen until ready to assemble the cake.