Appears in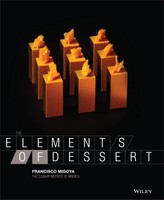 Ingredients
Doughnut Purée
Cake doughnuts 650 g 1 lb 6.92 oz 28.02%
Heavy cream 1.5 kg 3 lb 4.8 oz 64.66%
Sugar 170 g 6 oz 7.33%
Doughnut Cream
Doughnut Purée 3 kg 6 lb 9.76 oz 60.12%
Gelatin sheets, silver, bloomed in cold water, excess water squeezed off 60 g 2.12 oz 1.2%
Heavy cream 1.90 kg 4 lb 3 oz 38.08%
Heavy cream stabilizer, liquid 30 g 1.06 oz .6%
Method
For the doughnut purée: Break the doughnuts into small morsels.
Combine the doughnuts, cream, and sugar in a pot, bring the cream to a boil, and then turn off the heat. Let the doughnuts soak up the cream and become completely soft.
Purée the mixture until smooth using a handheld immersion blender.
Reserve warm to make the cream.
Make sure you have the mold ready as well as all of the inclusions frozen and ready to assemble the cake.
For the doughnut cream: Follow with the aerated desserts method. The doughnut purée will act as the custard (crème anglaise). Assemble the cake.