Appears in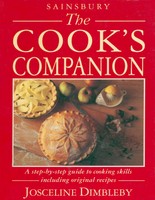 One of the keys to successful baking lies in preparing the tins before you start mixing the ingredients. Good quality non-stick tins need no preparation unless they are to be used for a rich fruit cake, which will need protection from the long baking with 1 or 2 sheets of greaseproof paper inside the tin, between the tin and cake mixture.
For really easy turning out, line the base of the tin with a disc of paper. Non-stick baking parchment needs no greasing but greaseproof paper does; secure it in the tin with a little oil or butter.
Tins for whisked sponges are best brushed with oil or melted fat, then the base lined with a disc of paper and greased again. Dust inside the tin with flour and tap upside down to remove any excess. Tins for creamed sponges just need brushing on the base and sides with oil or melted butter.

To line a loaf tin, trace around the base on greaseproof paper, then cut out. Grease the tin, fit the paper as the base and grease again. Most loaf tins are base-lined only. To line the sloping sides use a larger sheet of paper and cut into the corners as for a Swiss roll tin (below).

To line a deep square tin, cut out a base as for a loaf tin (left), then 2 paper strips, each just a bit longer than 2 sides and 2.5cm (1in) taller. Grease the tin, fit in the base paper, then the long strips in 2 sections, pressing each well into the corners to crease. Lightly grease the paper.

To line a deep round tin: Cut out a strip of paper just longer than the circumference of the tin and 5cm (2in) taller. Fold in about 1.5cm (¾in) along 1 edge of the strip, then snip along the edge to the fold lines at 2.5 cm (1in) intervals.

Trace around the tin base on greaseproof paper and cut out a disc. Grease the tin base and sides, fit in the long strip first, curving the snipped edge around on the base of the tin. Fit the disc on top and lightly grease the paper. Do not flour.

To line a Swiss roll tin: Cut out a sheet of greaseproof paper large enough to cover the base of the tin comfortably and well up the sides. Trace out the tin base, then fold along the lines to crease. Cut diagonally into the 4 corners to the traced line.

Lightly grease the Swiss roll tin, fit in the prepared greaseproof paper, overlapping the corner diagonals for a snug fit. Secure these corner joins with metal paper clips, then lightly grease the paper.
© 1991 All rights reserved. Published by Websters International.