Appears in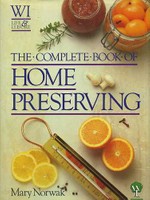 A wide variety of puddings can be frozen and this is a way of storing surplus fruit in a convenient form. Puddings which can be frozen include ice cream and pies, pancakes and sponge-cakes which can be combined quickly with fruit, cream or sauces to make complete puddings. Steamed puddings can also be frozen, together with fruit crumbles, gelatine sweets, cold soufflés and mousses and cheesecakes. Milk puddings do not freeze well.
It is better not to put jam or syrup in the bottom of puddings before cooking, as they become soggy on thawing, but dried fruit, fresh fruit and nuts can be added. Highly-spiced puddings may develop off-flavours.
Many cold puddings involve the use of gelatine. When gelatine is frozen in a creamy mixture, it is entirely successful, although clear jellies are not recommended for the freezer. The ice crystals formed in freezing break up the structure of the jelly which becomes granular and uneven and loses clarity. This granular effect is masked in such puddings as mousses.
Suet puddings containing fresh fruit can be frozen raw or cooked. It is more useful, however, to cook them before freezing, since only a short time need then be allowed for reheating before serving. Puddings made from cake mixtures, or any traditional sponge or suet puddings, can also be frozen raw or cooked. Cake mixtures can be used to top such fruits as apples, plums, gooseberries and apricots. These are just as easily frozen raw since the complete cooking time in the oven is only a little longer than reheating time. This also applies to fruit puddings with a crumble topping.
It is useful to use some fruit to make prepared puddings for the freezer. Fruit in syrup can be flavoured with wine or liqueurs and needs no further cooking; this is particularly useful for such fruits as pears and peaches which are difficult to freeze well in their raw state.
© 1978 Mary Norwak estate. All rights reserved.