Appears in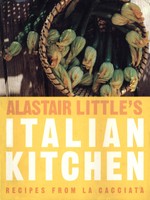 Fresh Italian sausages are wonderful, fresh British sausages are vile, this is a law of nature. My butcher, Donato, at the nearby village of Porano, makes sausages to order, and will discuss your specifications. His shop may not meet all modern EU health regulations, indeed often resembles the carnage of a battlefield, but the meat is wonderful.
Italian delicatessens sometimes make their own sausages or sell them vacuum-packed from Italy. Look out for the 'piccante' (spicy) ones.
© 1996 Alastair Little. All rights reserved.