Appears in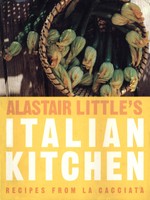 The name sounds as though it might have been something to do with hunting, but apparently it means 'refuge' in an archaic dialect and refers to a post-battle rescue of survivors from a Visigothic invasion in the fifth century AD. The estate is perched atop a conical hill of volcanic origin, itself on top of the high craggy ridge facing Orvieto from the south. La Cacciata has been in continuous habitation for 2,500 years. The Etruscans began the construction of the extensive galleries under the hill, probably as tombs, but they now serve as the wine cellars. The present owners, the Belcapo family, have only been there for the last 200 years.
The view of Orvieto across the valley, with its umber walls and the unbelievable magnificence of the Duomo, is simply stunning. Turner stayed there on his way to Rome and painted his version of the view, which now hangs in the Tate. The nature of Umbrian light has been an artistic cliché through the centuries, but it is in no way exaggerated, changing both subtly and dramatically every day.
The estate buildings at La Cacciata are not splendid, the main villa appearing dilapidated to tidier North European perceptions. The oil mill, farmhouse and cottages are all rather rustic and basic, but this is a working farm, combining three main functions: the production of excellent olive oil, a range of Orvieto Classico wines and a bed and breakfast business. It is the facilities of the last that Sarah Robson and I rent to house our cooking school. The guest rooms are in the former labourers' cottages and are very simple indeed, particularly the plumbing. There are no formal gardens, just dusty pathways through the vines. This is not a 'Chiantishire' Disneyland.
The food taught and served at La Cacciata matches the location, being essentially rustic, very seasonal, often home grown or bought at market. Herbs grow extravagantly everywhere; rosemary and fennel are almost omnipresent in the local meat cookery. The estate's fruit trees provide desserts, wild mushrooms flourish in autumn, and truffles are available cheaply and in abundance from the local truffle master and his charming dogs. The farmhouse kitchen has a large stone bread oven outside which is used regularly, and all grilling is done on a primitive but effective barbecue. All this is the antithesis of high-tech cookery but the food is so natural and simple that this is the perfect environment to prepare and eat it in.
Alastair Little, May 1996
© 1996 Alastair Little. All rights reserved.