Appears in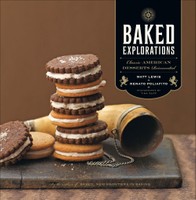 My family had a candy bowl, not a dish. It was nothing extraordinary, just a nondescript and nicked soup bowl filled with candy. At various times, the bowl held Jolly Ranchers, lollipops, M&Ms, individually wrapped caramels, and Hershey's Kisses (by far the most common bowl filler). During the holidays, the ordinary candy bowl was whisked away and replaced with a fanciful red and green holiday dish, but it reappeared on December 26. I loved that candy bowl.
As expected, on a few occasions, I overindulged. I still do. I am a recovering candy addict, and I no longer leave myself open to temptation by setting out extraneous candy bowls, dishes, or multipack candy bar minis. Now, when I have a hankering for candy, I make it instead. The process, like baking, is soothing; plus, lately I have a thing for candy thermometers and chemistry.
At the moment, I am an amateur candy maker with great aspirations. I am happy to report that while I was researching this book, many people submitted recipes that showed a dizzying grasp of the science involved. Like the hand-written, almost philosophical digression on spun sugar. No, that didn't make this book. Quite simply, those recipe suggestions were more ambitious than I had predicted. I intend to attempt a spun sugar cage shortly, but I need to develop my candy-making skills further. In the meantime, I've included a few regional favorites. Buckeyes are known for both their kid-friendly approach and addictive combo of peanut butter, chocolate, and graham, while the Marshmallow Chocolate Cups are a riff on an old-time candy. Making those dark-chocolate cups filled with marshmallow gave me a feeling of accomplishment that I'd imagine is usually reserved for worldly chocolatiers.
This is also the chapter where I stuffed in some of the more interesting—er, stuff that defies a label—items. I can honestly say that Strawberry Jell-O Salad, which is not really a salad, is one of the strangest but most popular items I made. My taste testers still ask when I might be making that "Jell-O strawberry pretzel thing" again. I also had to find a place for the lovely banana fritters, which are easy and should be made more often. Finally, I recommend everyone take a crack at the Caramel Popcorn. It is sinful. And it makes the most amazing gift.
© 2010 All rights reserved. Published by Abrams Books.