Appears in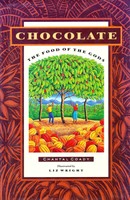 During the eighteenth century there was a great increase in the use of chocolate throughout Europe and it was not long before cocoa suffered the same fate as tea and coffee and had duties imposed on it. In 1704 Frederick I of Prussia levied a chocolate tax on every purchase, while in England the early use of cocoa was restricted to the wealthiest echelons of society by punitive taxation. By 1800 this had reached the level of almost two shillings a pound on cocoa imported from British colonies, while foreign cocoa had three times as much duty levied on it. All chocolate – at this stage it was still only drinking chocolate – had to be wrapped in stamped papers, supplied by the excise men, and then sealed proving that the taxes had been paid.
Wherever such fiscal policy exists it is likely to lead to smuggling, counterfeiting and fraud. As far back as the sixteenth century, there are reports of Native Americans filling hollowed out cocoa beans with dirt, keeping the precious nibs for themselves. In the seventeenth century, adulterated chocolate was widespread, the cocoa mixed with such unsavoury additives as starch, shells, and brick dust. This penny pinching continues to this day with many 'chocolate' bars containing as little as 15 per cent cocoa solids. In eighteenth-century England, there were fierce penalties for smuggling or trading in chocolate without a licence, including a £500 fine and a year in prison for knowingly selling chocolate on which the duties had not been paid.
With such levels of taxation and with complex regulations controlling trade, it is a tribute to the seductive qualities of chocolate that it continued to be sold at all in the early 1800s. However, by 1852, duties had plummeted to one penny per pound on colonial cocoa. Quaker industrialist claims of cocoa's health-giving properties, and soaring imports, were two reasons behind the reduction in taxation, and hereafter consumption escalated. Cocoa was now affordable by every working man, and was vigorously promoted as such by the Quakers. In 1822 a mere 230 tons were imported into Britain, whereas by 1850 this figure had reached 1,400 tons. By 1900 the figure exceeded 12,000 tons.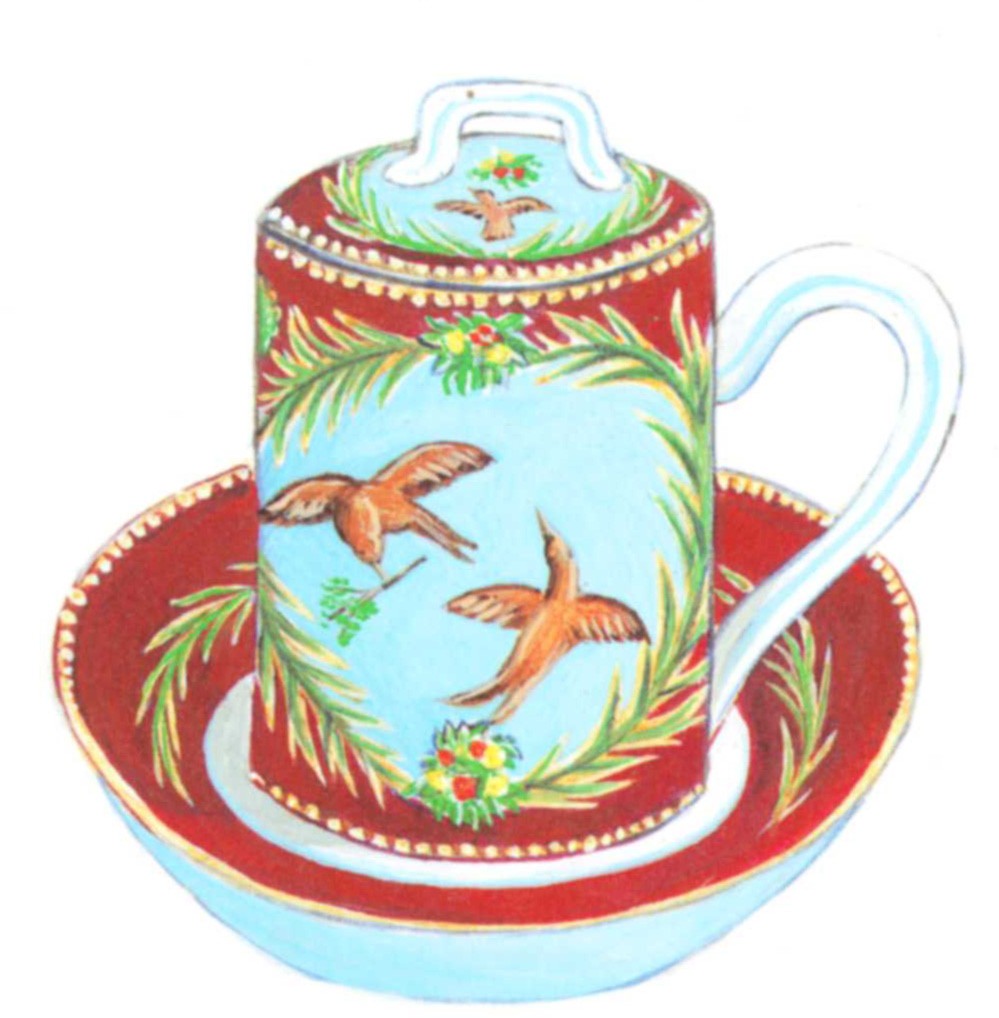 In England, chocolate was a major feature of the daily life of the eighteenth-century smart set. Addison tells us in the Spectator that its use was deemed a token of elegant and fashionable taste. Aristocrats had chocolate prepared for them in their homes by their servants. It was especially popular at breakfast time, as shown by the Spectator of 11 March 1712, which quotes a lady's diary:
Wednesday. From eight to ten. Drank two dishes of chocolate in bed, and fell asleep after them.
It was served in elegant porcelain cups with two handles, a saucer and a lid called the cover, and sometimes the sets included matching chocolate pots.
Some fine examples of eighteenth-century china made for the service of chocolate are preserved in London's Victoria and Albert Museum. They are made of porcelain by the Worcester, Chelsea, Derby, Meissen and Schreiber potteries. In earlier times, domestic utensils were mostly of pewter and earthenware, and were seldom decorated. The fastest growth area of porcelain was in the equipment for the new hot drinks of tea, coffee and chocolate. Previously drinks had always been served cold: water, ale and mead were the most common beverages. To a twentieth-century observer it is a little difficult to comprehend that the novelty of chocolate was not simply its taste, but that it was also served hot. At that time earthenware cost about twopence a piece, china about sixpence, so most plates were made of earthenware.
Horace Walpole gave a set of porcelain chocolate cups to his friend Horace Mann, the British representative in Florence. Mann in his thank-you letter remarked that the set was so beautiful that 'it is the ornament of the red room and would be looked at only, except on a grand visit.' This does not imply, however, that the set was seldom used, for Mann was visited by many princes, lords and ladies who much enjoyed drinking chocolate. Walpole also tells us that a party of half a dozen ladies was known as a 'ciocolata'.
Chocolate was already well established as a gift among Europe's renowned and elegant, and was commonly taken by travellers, both for their own use and as a gift. The Empress Elizabeth, widow of Charles VI, gave two parcels of chocolate to Count Bemie, one for his journey to Italy and one to give to Madame de Craon. When the Duke of York, brother of King George III, travelled through Italy in 1764, several cities presented him with gifts of fruit and chocolate. Travel had become a fashionable pastime among the aristocracy. Another fashionable pursuit was the acquisition of ancient Roman and Greek marbles, and other artifacts. The two things seemed to go well together. By now roads were much better than in the seventeenth century – and so was the design of coaches. Nonetheless, courage was needed to undertake these long slow journeys which, including lengthy stops, lasted for months. The upper classes braved the many hazards, but liked to ensure some modicum of comfort. They carried with them all the necessary equipment for making chocolate. Their children were encouraged to travel, as it was the custom to finish their education by doing the Grand Tour. Horace Walpole was one such young man, and in 1739 he took his chocolate with him, carefully packed away in his luggage, as chocolate was liable to be seized by the French customs.
In 1797 Goethe, the German poet and philosopher, made sure he had his chocolate equipment when travelling in Switzerland. From our current perspective it seems odd that a German should have felt it necessary to take his chocolate with him to Switzerland. However, the Swiss did not actually start manufacturing chocolate until as late as 1845. Rudolph Sprungli-Ammann was the first in the Swiss marketplace, and was so successful that in 1899 he bought out his competitor Lindt, the inventor of the conching machine, for a million-and-a-half golden francs.
© 1993 Chantal Coady. All rights reserved.