Appears in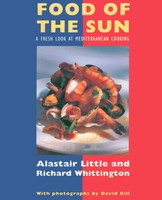 One of the greatest joys of the food of the sun is in the raising of vegetable dishes to a high culinary art. It is a process which always starts with the freshest ingredients, for Mediterranean cooks do not need sell-by dates to know when a vegetable is past its best. Watch somebody shopping for food in a Southern Italian market, how they feel and sniff and weigh the produce in their hands before choosing. No cling wrap or expanded polystyrene here to stand between the consumer and the consumable.
We are not, however, excluded from quality. One can find excellent fresh produce in our shops and once you have good ingredients then the only things needed to create taste sensations that can easily push meat into the background are a perception of what a dish should be followed by sympathetic treatment.
© 1995 Alastair Little. All rights reserved.