Appears in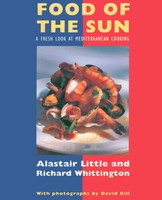 Mediterranean food is defined by so many things. It is indisputably of the sun, and vegetables have always played a central role. Olive oil is an absolute in the mix and, for all who live around the coast, fish takes pre-eminence over meat. Garlic is a prevalent flavouring agent and herbs, like parsley and coriander, feature almost in the sense of vegetables and certainly as salad elements in their own right. We know at once what is being implied in culinary terms when somebody uses the word Mediterranean as an adjective, but it is a suggestion of something rather than an absolute definition - a generalization rather than a specification. Thus, with the possible exception of the truly ubiquitous olive, you cannot isolate a single ingredient and ascribe to it uniquely Mediterranean properties. For a start, many natural foods like tomatoes did not originate from this part of the world, yet the idea of Mediterranean food without them would be unthinkable.
In this context, and from among a long list of candidates, the sweet red pepper takes pride of place. Rich in vitamins A and C, this pepper is called a 'bell pepper' in the USA, a poivron in France and a pimiento in Spain. They are all the same Capsicum annuum, produced by annual shrubs and, like tomatoes, technically a fruit but used as a vegetable.
Red sweet peppers start their life as seeds which grow first into green peppers before ripening to red or yellow. Once picked, they have a relatively long shelf-life, which can be further extended by refrigeration. Green peppers will continue to ripen after picking and may start to streak with red if left long enough. Eventually they wither, as moisture is lost, and if kept too long will go bad. Rotting can be prevented by sun- or oven-drying and, in Spain, sweet peppers are often peeled and canned. This book contains only one recipe — Chilled Tomato and Couscous Soup — which uses green peppers and, even then, only in the tiniest amount because they are literally unripe and in large quantities generally very indigestible. On that occasion, their minimal inclusion had as much to do with appearance as taste.
When cooked, the green pepper takes on an unpalatable brown and dirty look, has neither joy nor sweetness in its make-up and, in its immaturity, what passes for flavour lacks definition or force, being merely insipid and watery. The yellow pepper is quite sweet and in certain combinations, like the Roast Yellow Pepper and Chilli Salad, its colour is a determinant in its selection.
In order to enjoy peppers at their best they must first be charred or grilled until the skins have blackened and blistered. While a grill or ridged grill pan can do the job adequately, it is actually better to put the peppers in direct contact with a flame. You can do them one at a time on a skewer, but the most efficient device is to squeeze the whole peppers into one of those hinged metal frames like the ones for doing toast on an Aga. Let them really blacken. They look hideous and the first time you do it you will think you have taken them too far, but do not worry. Next, to make them virtually self-peeling, put them while still hot from the flame into a bowl and cover it with cling film and leave for 10 minutes. Scrape and pull off the crusty exterior to reveal the pristine red beneath.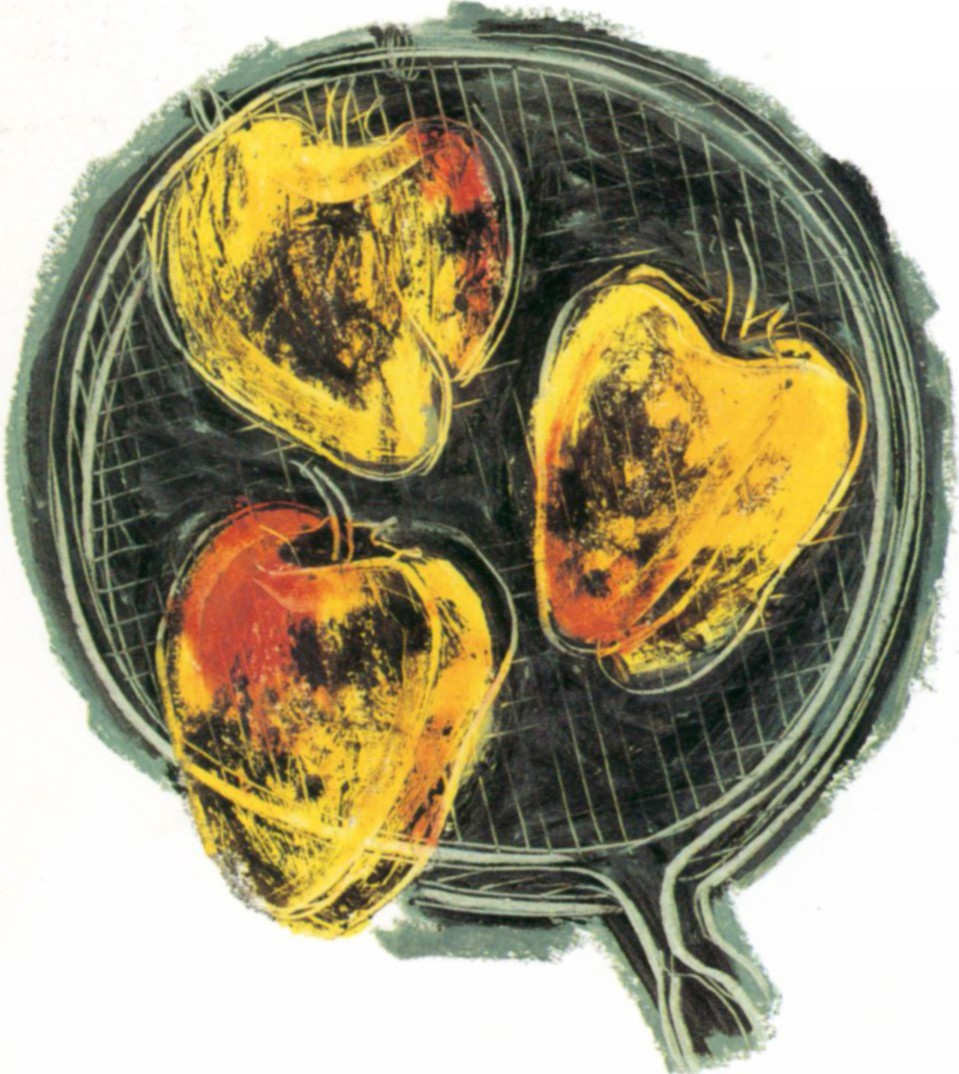 Cut a piece off and eat it still warm and you will be blown away by the taste and colour and texture of it. This is a moment of truth and you feel chastened, because you could so easily have stopped at the point of sneering disbelief, and at the same time grateful that you went through the motions. Peppers treated this way are magic: sweet, intense, smoky without the slightest bitter edge from the charring. They look beautiful and once you have tried them you are unlikely ever to eat a raw unskinned pepper again. Use skin charring and peeling as an automatic preliminary mise en place for peppers before adding them to cooked dishes for an equally startling improvement in the end result.
© 1995 Alastair Little. All rights reserved.