Appears in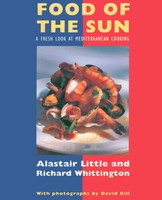 Mediterranean desserts are often very sticky and frequently sweet beyond sweetness, as are the soft drinks which sometimes accompany them. Very sweet drinks feature heavily in those countries where alcohol is little consumed or - as is the case in Saudi Arabia — not consumed at all, unless you are so desperate you will risk a bloody flogging for the sake of a snort.
People in Islamic countries drink sweet tea, sweet coffee and syrup seemingly at any time of the day or night, so the occasional glass of cold salt yogurt or a mineral water comes as a welcome relief to the visitor not steeped in disaccharides from birth. Desserts most frequently feature honey, nuts and syrup, with a sticky filo pastry, baklava winning the prize for most common sweetmeat in a sweep round from Morocco to Turkey. Our selection of puddings therefore draws inspiration from some of the most popular Mediterranean dessert forms, but seriously tones down the sugar content or cuts it with astringent citrus. These are desserts where East meets West in happy combinations and each has a slightly new angle to explore.
On days when preparing a dessert seems like just too much trouble — or just plain inappropriate because of the serious nature of the preceding courses — look no further than fruit. Fruit is the ideal ending to any Mediterranean meal and what could be nicer than a large plate or bowl of pristine seasonal fruits? It is something that is rarely offered in this country, which is a great shame. Fruit sorbets are also lovely desserts that take only minutes to make in an icecream churn, while fruit salad is also a great way to close any type of meal, simple or grand.
Quite a few of the recipes in this chapter call for the inclusion of orange and lemon rind. You are advised to use organic uncoated fruit or clean them carefully (see our comments on citrus rind).
© 1995 Alastair Little. All rights reserved.