Appears in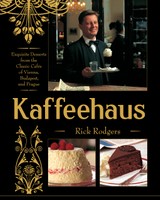 Budapest is divided by the Danube and has three distinct districts: Buda (with Castle Hill) on the right bank, Pest (the business center) on the left bank, and the hills of Óbuda to the northwest of Buda. The Roman numeral at the beginning of each address refers to the postal codes; the first district is I, and so on.
The quality of desserts in Budapest can be hit or miss. After the world-class pastries at Gerbeaud, other bakeries can suffer in comparison. In fact, some of the garnishes can be quite garish. Concentrate on the local specialties and don't judge by Viennese standards, and you'll have a wonderful experience. Also, the cafés in Budapest are gorgeous, and the atmosphere makes up for any maraschino cherries you might see sitting on top of your cake.
Angelika Cukrászda (Buda)
I. Batthyány tér 7
225-1653
HOURS: Daily, 10 A.M. to 10 P.M.
METRO: Batthyány tér
In a historic vaulted building situated next to Buda's St. Anne's Church, Angelika has a good selection of tea, which is hard to find in Budapest.
Astoria Kávéház (Inner Pest)
V. Kossuth Lajos utca 19-21
01/318-67-98
HOURS: Daily, 7 A.M. to midnight
METRO: Astoria
The Astoria is an ornate, grand old hotel from the turn of the twentieth century. Its enormous café with high ceilings—and with tables big enough to hold the largest open newspaper—also has big windows that look out on a busy intersection. If you don't feel like reading, you'll have the best people-watching in town.
Central Kávéház (Inner Pest, near Food Hall)
V. Károlyi Mihály út 9
266-21-10
HOURS: Daily, 7 A.M. to 1 A.M.
METRO: Ferenciek tér
Along with Café New York, this was one of the most important hangouts for the literati of Old Hungary. After decades of hibernation, the Central reopened in the fall of 1999, having been elegantly refurbished. This café easily accommodates tourists from the nearby pedestrian area of Vaci utca and Budapesters wanting to check out the hot new place in town. It's not far from the Market Hall, where food vendors ply their wares in a gorgeous 1897 structure, a place that must be on the list of every food-loving tourist.
Elsö Pesti Rétesház (First Strudel House of Pest)
Október 6 út. 22
428-0134
HOURS: Daily, 9 A.M. to 11 P.M.
When I first visited Budapest, there was a strudel bakery that I loved on this street. It's gone, but this place, a combination restaurant café dedicated to both sweet and savory strudels, has filled the gap. Housed in one of the oldest buildings in Budapest, it also serves Hungarian specialties for lunch and dinner. Right across the street is Bestsellers, the city's English-language bookshop.
Frölich Cukrászda (near Old Synagogue)
Dob út 22
276-28-51
HOURS: Monday through Friday, 8 A.M. to 6 P.M.; (closed last two weeks in August)
METRO: Astoria
The only kosher bakery in Budapest and very good by any standards. It's best for one of the homestyle Jewish pastries, such as flòdni or almas pitéks. Also, don't miss the beautiful, unusual memorial to Charles Lutz, about a half block down on the same side of the street, which projects out of an old wall.
Gerbeaud Cukrászda (Inner Pest)
V. Vörösmarty tér 7
429-9000
HOURS: Daily, 9 A.M. to 9 P.M.
METRO: Vörösmarty tér
For world-class pastries in Budapest, go to Gerbeaud. The specialty is the Gerbeaud slice, thin layers of a sweet dough layered with jam and nuts with a chocolate icing. It's totally unlike anything you'll ever have in the U.S. Chestnuts, especially beloved by Hungarians, are turned into some very fine desserts here. They have a smaller café around the corner for a quick bite.
Lukács Cukrászda (Embassy District)
Andrássy utca 70
372-0407
HOURS: Daily, 9 A.M. to 8 P.M.
METRO: Vörösmarty utca
Another favorite of the teatime set, with sophisticated fin-de-siècle fittings. The café was originally built as part of a bank, so expect to walk through a pretty businesslike lobby to reach your destination. The ice creams here are especially good. Fine for a stop after taking in Heroes' Square or one of its adjacent museums.
Mellis István Cukrászda (Inner Pest)
V. Oktober 6 út 17
331-3274
HOURS: Monday through Saturday, 8 A.M. to 6 P.M.
METRO: Deák Ferenc tér
It's easy to miss one of the most charming bakeries in Budapest, a place where neighborhood folks buy their goodies to take home. Look for the old etched-glass sign with Sütemények (baked goods). Choose your pastry from the case and tell them what kind of coffee you like, and head upstairs to the small salon. Your selection will be sent to you via an electric dumbwaiter. If you need something to read while you relax with your coffee, almost next door is Bestseller's Bookshop, one of the few English-language bookshops in town.
Muvész Kávéház (Inner Pest)
VI. Andrássy út 29
343-3544
HOURS: Daily, 9 A.M. to midnight
METRO: Opera
Decaffeinated cappuccino served here! Another place steeped in Old World ambiance, but expect crowded quarters to dampen the experience. A good place for a coffee after the Opera, which is right across the street.
Café New York (Elizabeth Town)
VII. Erzsébet korút 9-11
886-6111
HOURS: Daily, 9 A.M. to midnight
METRO: Blaha Lujza tér
The setting of the imposing Café New York will make you feel like royalty, even if some of the other components fall short. It's as grand as a grand café can get. The prix fixe dinner is excellent.
I. Fortuna utca 14
375-65-71
HOURS: Daily, 11 A.M. to 1 A.M.
BUS: Castle Line bus from Moszkva tér
While the desserts here remain excellent, this former coffeehouse is now a full-service restaurant with an upscale menu. The charming Museum of Commerce and Catering, one of the quirkiest museums in the world (but incredible fun for foodies), is right down the street.
Ruszwurm Cukrászda (Castle Hill)
I. Szentháromság utca 7
375-5284
HOURS: Daily, 10 A.M. to 7 P.M.
FUNICULAR: From Clark Ádám tér to Castle Hill
Since 1838, this tiny coffeehouse/bakery near the royal castle has been serving delicious pastries to royalty and commoner alike. You will wonder how the owners have managed to save the unique Empireperiod interior during the ravages of almost countless wars and revolutions. (Actually, the fittings and bric-a-brac are now protected by the state, and are maintained by the nearby Museum of Commerce and Catering.) Just about any of the Hungarian-style pastries here is worth the calories.
© 2002 All rights reserved. Published by Echo Point.