Appears in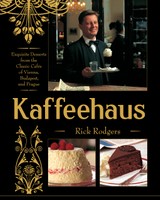 Auinger-Pfund, Edith, et al., Lehrbuch der Konditorei. Linz: Trauner Schulbuch Verlag, 1997.
Balázs, Mester. Tôrténeteck Terített Aszalokrol Es Kôrnyékükrôl. Budapest: Pallas Stúdió, 1999.
Beer, Gretel. Classic Austrian Cooking. London: Andre Deutsch, 1993.
Beranbaum, Rose Levy. The Pie and Pastry Bible. New York: Scribner, 1998.
Beyreder, Adelheid. Wiener Mehlspeisen. Munich: Gräfe und Unzer Verlag, 1993.
Břízová, Joza. The Czechoslovak Cookbook. New York: Crown Publishers, 1965.
Brook-Shepherd, Gordon. The Austrians. London: HarperCollins, 1997.
Coe, Sophie D., and Michael D. Coe. The True History of Chocolate. New York: Thames and Hudson, 1996.
Demetz, Peter. Prague in Black and Gold. New York: Hill and Wang, 1997.
Derecskey, Susan. The Hungarian Cookbook. New York: Harper & Row, 1972.
Gajdostíková, Hana. Czech National Cookbook. Václavská: Jan Kanzelsberger Publishing House, 1998.
Gergely, Anikó. Culinaria Hungary. Cologne: Könemann Verlagsgesellschaft Gmbh, 1999.
Hargitai, György. Konyha Magyar Edességek. Budapest: Média Nova, 1998.
Heise, Ulla. Coffee and Coffee-Houses. West Chester: Schiffer Publishing Ltd., 1987.
Hess, O., and A. Hess. Viennese Cooking. New York: Crown Publishers, 1952.
Hofmann, Paul. The Viennese: Splendor, Twilight, and Exile. New York: Doubleday, 1988.
Holub, Karel. Velká Kavárna Slavia. Prague: Ars Bohemica, Holub & Artner, 1998.
Kellerman, Monica. Das Große Sacher Backbuch. Weyarn: Seehammer Verlag, 1994.
Langseth-Christensen, Lillian. Gourmet's Old Vienna Cookbook: A Viennese Memoir. New York: Gourmet Distributing Corporation, 1959.
Linton, Douglas. To the Coffee House! An Insider's Guide to Vienna's Cafés. Vienna: Glattau & Schear, 1998.
Lukacs, John. Budapest 1900: A Historical Portrait of a City and Its Culture. New York: Grove Press, 1988.
Maier-Bruck, Franz. Das Große Sacher Kochbuch: Die österreichische Küche. Weyarn: Seehammer Verlag Gmbh, ca. 1980.
Mayer, Eduard. Wiener Süßspeisen. Linz: Trauner Verlag, 1993.
Mayer-Bahl, Eva. Das große Buch der österreichischen Mehlspeisen. Munich: BLV, 1999.
Morton, Frederic. A Nervous Splendor: Vienna 1888/1889. New York: Penguin Books, l980.
———. Thunder at Twilight: Vienna 1913/1914. New York: Charles Scribner's Sons, 1989.
Morton, Marcia Colman. The Art of Viennese Pastry. New York: Doubleday, 1969.
Neumann, Petra. Wien und seine Kaffeehäuser: Ein literarischer Streifzug durch die berühmtesten Cafés der Donaumetropole. München: Heyne Verlag, 1997.
Oberleithner, Peter. Süßes Bäcken: Weltberühmte Mehlspeistradition aus Wein. Vienna: Michael Lechner Verlag, 1989.
Pasternak, Joseph. Cooking with Love and Paprika: A Treasury of Continental Cookery. New York: Bernard Geiss & Associates, 1966.
Pendergrast, Mark. Uncommon Grounds: The History of Coffee and How It Transformed Our World. New York: Basic Books,1999.
Péter, Jánosné. Sütemények és Egyéb Edességek. Budapest: Esély Mozaik Kiadó & Holding KFT, 1998.
Polvay, Marina. All Along the Danube. New York: Hippocrene Books, Inc., 1996.
Reich, Lilly Joss. The Viennese Pastry Cookbook. New York: Macmillan Publishing, 1970.
Riegl, Andrea, and Andreas Augustin. Das Café Central Treasury. London: The Most Famous Hotels in the World, 1998.
Schivelbusch, Wolfgang. Tastes of Paradise. New York: Vintage Books, 1993.
Schorske, Carl E. Fin-De-Siècle Vienna: Politics and Culture. New York: Vintage Books, 1981.
Schratt, Katharina. To Set Before the King: Katharina Schratt's Festive Recipes. Iowa City: University of Iowa Press, 1996.
Segel, Harold B. The Vienna Coffehouse Wits, 1890—1938. West Lafayette, Ind.: Purdue University Press, 1993.
Shenton, James P., et al. American Cooking: The Melting Pot. New York: Time-Life Books, 1971.
Wagner, Christoph. Die Wiener Küche. Frankfurt am Main: Insel Verlag, 1998.
Wechsberg, Joseph. The Cooking of Vienna's Empire. New York: Time-Life Books, 1968.
Weismüller, Maria. Austrian Pastries and Desserts. Innsbruck: Kompass, 1999.
Witzelberger, Richard. Das Wiener Zuckerbäcker Handwerk. Wien: Mayer & Comp., 1947.
© 2002 All rights reserved. Published by Echo Point.