Appears in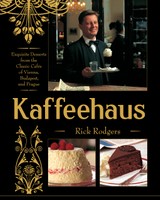 Over the years, I have modified how I make the doughnuts, and I no longer "sandwich" the two disks of dough. You will need a Bismarck pastry tube (a long nozzle with a pointed end, avaliable at cake decorating suppliers and online), to pipe the preserves into the cooked doughnuts.
Roll out the dough ½ inch thick. Using the 2¾-inch cutter, cut out the rounds. Deep-fry at 350°F, frying, turning once, until the doughnuts are golden brown and cooked through, about 3 minutes. It is best to do a single doughnut as a test to establish the timing. Cool completely. Fit a pastry bag with a Bismarck tube and fill with ½ cup apricot preserves. Insert the tube in the bottom of each doughnut and pipe in the preserves.
© 2002 All rights reserved. Published by Echo Point.