Appears in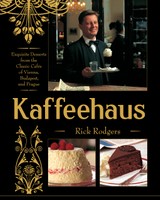 Of all the desserts served Vienna, Budapest, and Prague, this category of sweetened dumplings and noodles is the most foreign to the American palate. Yet, whenever I spoke to American friends about this book, if they had any Austro-Hungarian or Czech heritage at all, they wanted to be sure that I was including dumpling recipes. They all fondly remembered their grandmothers serving fruit-stuffed dumplings in the summer, and none had eaten dumplings since. Cooks in the American south make fruit dumplings, but those dumplings are usually drops of dough cooked on top of a thick fruit sauce.
These dishes are created from a trio of basic doughs: potato, farmer's cheese, and yeast. Dumplings (Knödeln) and noodles (Nudeln) are comparatively new in Austro-Hungarian cooking, not having become established until the late 1600s. But when they gained ground, they really took over. For a few decades, almost anything that was made from flour was called a Knödel. Because potatoes and cheese were plentiful, they were used to make the dough. There was huge variety to these dumplings, but like other desserts, the more savory ones gave way to the sweet versions as sugar became less expensive. In the past, seasonal fruit played a large part in people's diets, and simple fruit dishes kept food on the table, especially during times of war. Candied fruit was a luxury, so covering a small amount of them with a generous amount of inexpensive dough was a simple way to indulge, and for a time these dumplings enjoyed a vogue.
Sweet dumplings and noodles are an integral part of the Austro-Hungarian culinary heritage, and yet they are everything Torten are not: While Torten are sophisticated, dumplings are down-home and simple. These flour-based dishes are admittedly heavy, and they're supposed to be. In the past, they were most often served as a meatless meal, and rarely for dessert. Even today, when they're ordered at a Kaffeehaus they usually make a meal, unless they're shared as an after-dinner dessert. They are usually served without a lot of embellishment, with just a dusting of confectioners' sugar, ground walnuts, or fried bread crumbs. When I serve them to my guests in America, however, I can't resist adding a splash of raspberry or strawberry sauce, a drizzle of heavy cream, or a dollop of sour cream to make them a bit less stodgy.
© 2002 All rights reserved. Published by Echo Point.