Appears in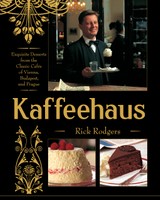 The largest cafes serve, hot or cold, comforting spoon desserts. We would call them all puddings, but there are subtle differences.
Koch are usually based on bread crumbs, stale bread, ground nuts, or some other flour substitute, bound with an egg custard.
They are so characteristic of the Viennese kitchen that they are sometimes called Wiener Koch. The Auflauf is related to the dessert soufflé, made light with separated eggs. The English word pudding is used in Vienna to describe warm, unmolded desserts like the steamed chocolate Mohr im Hemd ("Moor in a Shirt") or the walnut Nuβlpudding.
Also in this chapter are other soft desserts that defy categorization but are nonetheless best when eaten with a spoon, bite by creamy bite. I have not included one of the pillars of the coffeehouse, ice cream. While the very best Konditorein make their own, most cafés buy the ice creams and sorbets from outside vendors and turn them into the kind of desserts that are familiar wherever you live. This is not to say they're not good, but an ice cream sundae is an ice cream sundae whether you're in Vienna, Austria, or Vienna, Virginia.
© 2002 All rights reserved. Published by Echo Point.