Appears in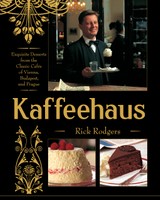 This book is dedicated to Karitas Sigurdsson-Mitrogogos, who took me under her wing in Vienna and enthusiastically guided me through an incredible itinerary of coffeehouses and bakeries. Karitas became my guide, translator, concierge, and "matchmaker" as she introduced me to Viennese who knew the coffeehouse business inside out. Karitas and her husband, Alexander, now feel like family, and I will always be grateful for their friendship.
My research trips to Vienna, Budapest, and Prague were made pleasurable thanks to the efforts of many, many people who took time out of their busy lives.
In Vienna: Irene Jenkins, who started the project as an invaluable researcher and liaison with the great cafes of Vienna, and became a cherished friend; Vinzenz Bauerle, for showing me the backstage operations at Oberlaa Kurkonditorei; the Bleuel family, owners of the Tulbingerkogel Hotel and Restaurant in the Vienna Woods, for a charming and informative evening of talk about Viennese cuisine and a fine dinner showcasing three traditional desserts; Christian Bär of the Hotel Sacher; Dietmar Furthmayr, for a guided tour of the main bakery for Aida; Hans Diglas of Café Diglas, for a long discussion of the day-to-day operations of a coffeehouse; Gert Gerersdorfer of Café Dommayer, for many courtesies; Gerda Hofer, the personification of Gemütlichkeit, for a lovely Jause (afternoon tea) and her insights into Viennese home baking; Raimund Höflinger for a jovial and engrossing visit to the illustrious Café Central; Wolfgang Leschanz and his assistant, Fujiwara, for their hands-on demonstrations of strudel and Sachertorte; Joerg Nairz, architect for the renovation of Café Sperl, for an in-depth discussion of the interior design of classic Viennese cafés; Paul Skop, director of the Berufsschule für den Lebensmittel-Textilbereich, Technische Zeichner und Zahntechniker, for a tour of the school's professional baking program; from Demel, Manager Steffi Kren and Frans-Jan Soede for many favors, from providing recipes, books, and historical information to a tour of Demel's operation from top to bottom; Evelyn Petros-Gumpel and Audrey Stotler, respectively, for their melodious companionship; and Ken Baibon de Mapayo, for sharing his table at Café Hawelka and introducing me to the Hawelka family.
In Budapest: I never would have gotten my foot in the door without the enormously generous assistance of one of the great men of the international restaurant business, George Lang, owner of two of Budapest's best restaurants, Gundel and Bagolyvár, as well as New York City's Cafe des Artistes. Once that door was open, Krisztina Peter, Gundel's public relations manager, kindly put out the word about the American writer who was in town looking for recipes from the great cafes. Andras Huvos Recsi, pastry chef of Gundel, and Andrea Nemeth, chef of Bagolyvár, demonstrated their specialties for me. Maria Agoston Reichne, manager of Lukács, also helped introduce me to the world of Hungarian baking. At Gerbeaud, executive chef Sandor Kovacs and Manager Andrea Szappanos gave me a behind-the-scenes look at the kitchens of that great institution, and Krisztina Bacsi guided me through the equally renowned Cafe New York. My translator in Budapest, Peter Koltai, smoothed the bumpy road of meeting the Hungarian language head-on.
Before I got to Prague, I had to make initial contacts, which were provided by the resourceful Berta Ledecky of New York City. When Berta got my call for help, she went into action—a very impressive sight indeed. She set me up with her old friend Dr. Karl Zeman, who not only escorted me in Prague from cafe to cafe, but provided a healthy serving of his city's fascinating history, as well. Thanks also to Milan Kousal, who also proved to be a fine guide in Prague.
In America: In my career as a food professional, I have been lucky to have the friendship of some of the best bakers in America. I can always depend on them to take an anxious phone call with an urgent question. Beth Hensperger sent along her favorite recipes from the Danube region; Sarabeth Levine spent a day making strudel after strudel with me; Nick Malgieri gave suggestions on resource material; Adrienne Welch, one of my first mentors, continues to inspire me with her attention to detail and unerring sense of taste. Ella Szabo of Perfect Pastries/Hungarian Tortes in Greenwich, Connecticut, and her husband, Arto, shared recipes and their reminiscences of Hungarian life. Thanks also to Flo Braker, Rose Levy Beranbaum, and Carole Walter.
Carin Crow translated many German language works for me and probably now feels as if she's read every word on cafés ever written. Thanks also to Chris Lioni, for introducing me to Carin; fellow food writer Michael Krondl for sharing his family recipes for Czech baking specialties; Johanna Schreiner of the Austrian firm Gmundner Keramik, for donating tabletop products for photography; Gail De Gracia of Austrian Airlines; Hannalore Zolle at the Austrian Trade Council; Andrea Szakál of the Hungarian Tourist Board; Katerina Patilovita of the Czech Tourist Office; Friederike Zeitlhofer at the Austrian Cultural Institute; Abby Rivers; and Erna Zahn.
From the beginning, my editor Roy Finamore appreciated what I hoped to accomplish with this work, and he was generous with his talent for producing beautiful books. Working in four languages was a challenge that I could not have faced without the amazingly meticulous work of Janet McDonald, my copy editor. Thanks to Angela Skouras for supplying the evocative design of the book, and Potter art director Marysarah Quinn for making the match. And everlasting gratitude to Marshall Glickman, Sean Starcher, and Adrienne Nunez at Echo Point Books & Media for bringing Kaffeehaus a new life.
And, as always, an incalculable amount of gratitude to my longtime friend and agent, Susan Ginsburg; her assistant, Annie Leuenberger; my "home team" of invaluable assistants and irreplaceable buddies, Diane Kniss and Steven Evasew; and my ever-supportive husband, Patrick Fisher.
© 2002 All rights reserved. Published by Echo Point.