Appears in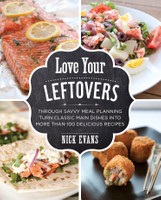 Take Five. Literally. I like to take five minutes before I even jot down a recipe or list just to think about the upcoming week. This might sound silly, but I find that it helps to make it an actual pointed activity. I think about what days might be busier and therefore I'll have less time to cook. Are there any social activities where I'll be eating dinner? Is it anybody's birthday (do I need to make a cake)? It does no good to create a fantastic meal plan for the week only to remember on Wednesday that you have to go out for a work-related dinner.
Same time. Same place. For me, it's Sunday morning with a second cup of coffee. I always block off twenty to thirty minutes a week to plan what my cooking schedule will be for the upcoming week. I can almost promise you that my cooking schedule is more intense than yours needs to be, so you might be able to get away with less time. It doesn't matter when or where, but try to find a time of the week that works well for you and plan your meals during that time every week.
Monday through Sunday. I recommend actually using the calendar week to plan your meals. Personally, I use an electronic calendar for this, but a paper calendar might work better for you. You can share the calendar with your family so they can get excited about upcoming meals! Whatever you use, actually write out the days for the week and what you plan to have each day.
Recipe source. I wish I could tell you how many times I've looked at my meal plan and saw something like "veggie lasagna" on the dinner schedule for the night. The only problem is that I know approximately one hundred different veggie lasagna recipes. Which one was I thinking of five days ago when I made this meal plan? Nobody knows! The point is that if you're using specific recipes, write the source (and page number if it's a cookbook) next to the recipe so you can find it easily later.
Note the season. It's very trendy to say that you are eating seasonal produce, but the truth is that it can save you money and make your meal planning easier. For example, if it's February and I'm making a marinara sauce, I'm not even going to check the produce section for tomatoes. I know they won't be good enough for a sauce base. I'll just add a few cans of tomatoes to my list. On the other hand, if it's August, I'll do the opposite and probably be able to find wonderful tomatoes for cheap.
Check before you check out. Before you head out for the store, spend a minute to run through your list and cross-check it with what's in your fridge and pantry. You will almost certainly find a few things already on hand that you didn't know about. I'm chronically bad at this step. Betsy once presented me with four different containers of couscous. I'm working on it!
List by store. If you do all your shopping at one grocery store, then this won't be an issue. For me, I sometimes go to three or four different stores in a week. If I just made one master list, I would forget what I was supposed to pick up at each place. To solve the problem, I make one big list but sort it by store.
List by category. I've seen some people get as crazy as making their shopping lists by store aisle. That's a bit much for me, but I do like to categorize my lists by basic areas. I'll make a list for produce, meat, dairy, pantry, and everything else. When I say pantry, I mean stuff like flour, canned goods, and spices.
Have a backup plan. I can pretty much guarantee that at least once a month (if you're very good) something will go wrong with your meal plan. Try to have a backup plan in place that isn't fast food. For us it's frozen burritos. We make them in bulk using leftovers like chicken or turkey, freeze them, and then reheat them if we are in a dinner bind.
Relax! Cooking should be fun, and while meal planning isn't always the most fun part of the week, there's no need to stress about it. You're working to make good meals for you and your family, and you should feel good about it.