Appears in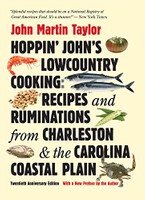 Like all regional foods, the finest elements of Lowcountry cooking—our fresh local seafood, Sieva beans, and green peanuts—do not travel well. But I have cooked collard greens and hoppin' john in New York City and corn bread in Italy, so don't despair. I have suggested reasonable substitutes where I thought they might feasibly imitate original ingredients without sacrificing the integrity of the dish. Befriend your grocer and your fishmonger. Often they are happy to notify customers when seasonal food items are due. Natural foods stores are also good sources of some of the hard-to-find items that I suggest, such as rice flour and fresh yeast. If you frequent restaurants, ask the owners, chefs, or managers if they know specialty food purveyors. Sometimes the item you seek is just enough to help the restaurant meet distributors' minimums, so don't hesitate to ask if they will order something for you.
Before you begin to prepare the recipes in this book, read through these listings of some special ingredients and equipment found in the Lowcountry kitchen. All of the recipes in this book have been cooked at home in my minuscule kitchen; it is not professionally outfitted. But I do have at hand, and take for granted, many utensils and ingredients that most kitchens do not, as a rule, include. Some, such as wood-framed drum sieves (tamis) from France, are excesses for the fanatic. Others, such as a kitchen scale, are, I feel, absolutely essential. It's unnecessary to buy the top-of-the-line, state-of-the-art KitchenAid or Robot Coupe, but you will need both a mixer and a food processor. Mine are both inexpensive models; all of the recipes have been checked with these typical home appliances. If you do own the powerful professional-quality mixers and processors, you may be able to cut the mixing times in the recipes. A few notes on useful kitchen equipment are found at the end of this chapter. For every task there is the proper tool. But no tool ever a cook made.
Of all the cooking skills and techniques that typify the Lowcountry kitchen, none is more difficult to describe or teach than the use of one's senses—and not just the sense of taste. Salting and timing the cooking of a simmering pot of hominy or soup can be done through the nose of a seasoned cook; Geechees say, "She has an old hand." A pinch of dried herbs or a handful of fresh ones is tempered by the way it looks; a roast is basted according to its hisses; a steak is done to the touch. Slow down and read recipes carefully so that you have well conceived the results before you begin. Above all, be sensitive to the ingredients and prepare the foods so that all flavors are featured; there is no reason to include an ingredient if you plan to mask it.
Cornmeal is added to batter until it thickens, but freshly ground meal absorbs liquids slowly. Even tightly covered flour often absorbs water from the air in the humid Lowcountry; it should be weighed or, better yet, dried in a low oven and sifted well first. For authentic Lowcountry biscuits and cakes, you must use a southern flour made from soft wheat, low in gluten. But be warned that this flour stales more quickly than others. Store them all in cool, dry, airtight containers for no more than six months. Be careful with cooking times: all ovens and stoves are different. All of these recipes were checked in the Lowcountry, precisely at sea level; water and yeast behave differently at higher altitudes.
The typical Lowcountry meal does not consist of a dizzying array of courses; more often than not it is a plate of seasonal foods. A roast veal chop accompanied by butter beans is found throughout the South; when those beans are served on a bed of rice and garnished with a healthy dollop of artichoke relish, the dish is distinctively Lowcountry. The pantry here is filled with homemade condiments that are taken for granted at most meals. The art of preservation—of canning and pickling and smoking and curing—has a long, uninterrupted history in the real Lowcountry kitchen.
The Lowcountry dinner is served at about two or three o'clock in the afternoon, though that tradition now seems to be reserved for Sundays and holidays as we have become more and more homogenized with the rest of the nation. Breakfast and supper foods are interchangeable, and the popular tea fare of eighteenth- and nineteenth-century Charleston lingers on, with cucumber sandwiches appearing at cocktail parties and sweet rusk now relegated to breakfast. Many of our foods appear as both sweet and savory. Sweet potatoes, benne, and peanuts, for example, all are found in soups, main dishes, and desserts.
For centuries cooks in the Lowcountry have used fine imported ingredients as well as locally produced ones. For authentic and delicious results, do not scrimp: buy the finest olive oil, the most delicious amontillado sherry, and the freshest herbs you can find.
Lowcountry flavors are based on the region's cash crops of today and yesterday. Among those are rice, corn, greens, legumes, root vegetables, and members of Solanaceae—the nightshade family, which includes tomatoes, potatoes, and the peppers, all native to the Americas. Nothing matches the flavor of vine-ripened tomatoes; if you cannot find them, I recommend using canned ones. Unlike their appearance in southwestern American cuisine, peppers in the Lowcountry are used as condiments rather than centerpieces, typically spicing a bottle of sherry or vinegar and appearing in relishes and pickles served alongside other dishes. I add a few fresh hot peppers (poked with a knife in several places to release their fire) to jars of sherry, olive oil, and vinegar. If you cannot buy fresh peppers where you live, you may want to buy some commercially spiced oils and vinegars to approximate those that we make here in the Lowcountry. When a recipe instructs to "season to taste," I would hope that you would do just that: most Lowcountry cooks use not only Worcestershire sauce, but soy, prepared mustard, and pickle juices as well.
Once you have eaten freshly stone-ground whole-grain grits, the bland degerminated store-bought ones will never do. No perfectly shaped Japanese persimmon will ever match the flowery aftertaste of a misshapen, ripe, indigenous one; but I have made persimmon bread with the Japanese variety in Europe to rave reviews. On one pantry item, however, I can't compromise; when stock—which the French call "the foundation of the cuisine" (and in French cuisine means both the kitchen and the cooking)—is called for, I demand homemade, not only for flavor but also for the ease of preparation. Canned and concentrated stocks are usually too salty to be of use in any reduction. A simmering pot of bones, shells, and aromatic vegetables changes a house into a home; homemade stocks similarly enrich soups and sauces. Recipes for basic chicken, fish, duck, vegetable, and shellfish stocks are included in the section that follows.
Finally, in your efforts to understand the Lowcountry kitchen, consult other sources as well. A bibliography follows the text. For the scholar interested in the culinary history of the Lowcountry, I highly recommend a trip to the rich collections of the South Carolina Historical Society, the Library Society of Charleston, the Caroliniana collection of the University of South Carolina, and several other museums housing Caroliniana, such as the Charleston Museum. For more recipes my workhorses are The Carolina Housewife of 1847 and the Junior League's Charleston Receipts of 1950. While I was working on this book, many people asked me why I was writing a Lowcountry cookbook when we already have those two marvelous books, spanning a hundred years of Charleston's history: real Lowcountry cuisine is, after all, right there in those two books, they said. The Carolina Housewife's archaic language is reason enough to rewrite those wonderful receipts so that they are usable today, and although I'm on my third or fourth copy of Charleston Receipts, I wanted to eliminate some of the baking powder, cans of soup, and overreliance on commercial products. My Lowcountry recipes present the sumptuous fare of antebellum Charleston for the modern cook.
© 1992 All rights reserved. Published by UNC Press.