Appears in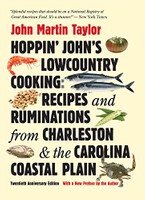 Milk and cheese are conspicuous in their absence from old Lowcountry cookbooks. Every plantation and many town houses had their "dairy," but animal husbandry was not a major part of Lowcountry farming practices prior to the Civil War. Cows were kept for cream, butter, and buttermilk, but it was just too hot in the Lowcountry for serious cheese making before the age of refrigeration. And according to recent findings, 78 percent of Jews, 70 percent of black Americans, and 83 percent of American Indians are milk intolerant; many of the early Carolinians would have found dairy dishes nauseating.
But refrigeration did come to the Lowcountry, and with it an eager embracing of many foodstuffs such as cheese straws, pimiento cheese, and the holiday classic, eggnog. Ice creams have long enjoyed popularity here. Karen Hess, the culinary historian, has suggested using yogurt to approximate the taste of what would have surely been clabbered milk in the older recipes. In modern recipes calling for buttermilk, try replacing it with yogurt thinned with a little milk or cream.
Butter is unsalted unless otherwise stated; an excellent brand is the rich Plugrá, which is available through food distributors to the restaurant trade. Note, however, that most of the commercially available butters in your grocer's dairy case have lots of added water. The Plugrá label states that it contains less water and that 25 percent less butter should be used; follow the directions on the package. You might want to check with your local natural foods store for pure butter and fresh cream or whole milk.
Some of the recipes call for clarified butter, which is the pure butterfat separated from the water and the milk solids. It is made by melting butter over very low heat. The clarified butter is the clear yellow liquid. Skim the foam from the surface; discard the milky white substance in the bottom of the pot as well.
Charleston passed an ordinance in 1919 which required the pasteurization of milk (beating Chicago's claim to having been the first to do so by sixteen years); dairy laws in the state have been forever strict since then. The recipes in this book which include cream do not specify heavy, whipping, or light; we seldom see the different grades in South Carolina. Use your own judgment. For an old-time flavor, and in place of whipped cream, try the following substitute for unpasteurized country cream. It will be thick and tart.
© 1992 All rights reserved. Published by UNC Press.