Appears in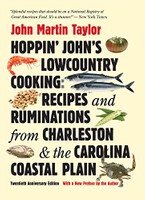 The Lowcountry kitchen requires a few items that you may not have. These are some of my favorite tools, as well as some that you will need for special tasks such as sausage making.
If you do not have any cast-iron skillets, I advise that you obtain some for authentic results. The typical Lowcountry kitchen has several cast-iron pots and pans, all well seasoned. At the very least, you should have a small (seven- or eight-inch) and a large (ten- or twelve-inch) skillet, well seasoned, for making corn bread with a golden brown crust. Most of my gumbos and pilaus are made in a well-seasoned four-quart cast-iron Dutch oven with its own "self-basting" cast-iron lid. Shop for used cast iron in antique and junk stores; occasionally you can find skillets that already have a good patina. They should have a clean, shiny black interior. If you buy new cast iron, wash it once with soap and water, then render some lard in it according to the instructions. Wipe out the pan, but never wash it again with soap. After each use, paint the inside of the cast iron with lard or bacon grease, then wipe it out. And if you must wash it, use cold water and a natural-bristle brush. The Southeastern Wildlife Cookbook, compiled by the state wildlife department, tells it best:
As anyone who's simmered a pot of catfish stew by a riverbank can tell you, a well-seasoned cast iron pot or skillet is impossible to beat for creating exotic flavors in many home-cooked meals. Where other cookware strives to leave no taste in food, the iron pot, when properly seasoned, will instill a distinctive flavor that becomes richer as the seasoning ages over many years of use.
Other kitchenware should be nonreactive. That means no chipped enamel, unlined copper, or galvanized cookware. Good kitchen pots should be heavy and well made. Heavy aluminum is fine for baking pans but should otherwise be avoided. One of the joys of visiting big cities is browsing in the great cookware stores such as Bridge (www.bridgekitchenware.com) in New York and Dehillerin (www.e.dehillerin.fr) in Paris, where you can find heavy, stainless-lined copper pots and wooden whisks to use in them. A particularly useful pan is a heavy, straight-sided sauté pan. A skillet is no substitute.
Invest in a good set of knives and keep them sharp. They will make your life easier in the kitchen and cut working time. An everyday tool kit comes in handy for odd jobs such as opening coconuts. Heavy poultry shears are indispensable.
My refrigerator rarely holds any fresh foods, because I try to shop daily, but it is always packed with half-filled jars of condiments. If you plan to make Lowcountry pickles, relishes, and chutneys, you should process them in a hot water bath to seal them for shelf storage. You then will need an enameled-steel open kettle canner, a canning funnel, and canning tongs, as well as the jars and lids.
For frying I recommend a deep-fry thermometer or a deep fryer with an adjustable thermostat. Buy three or four metal racks for cooling your cakes and cookies and for draining fried foods. A candy thermometer is essential when cooking sugar.
A kitchen scale is probably the most useful—and overlooked—kitchen tool. For baking and preserving it is essential. Krups makes a reliable one with an adjustable dial that reads in both grams and ounces. When you buy a scale, check it to see if it reads correctly by weighing several items from the grocer, such as a two-pound bag of sugar and a pound of butter. Use the same scale throughout the recipe.
If special equipment is needed, the recipe calls for it. Meat grinders, for example, are necessary for making sausages; food processors make mush of most meats. Metal biscuit cutters and U-shaped pastry blenders are carefully designed tools that give much better results than substitutes. I advise you to read recipes all the way through before beginning.
© 1992 All rights reserved. Published by UNC Press.