Appears in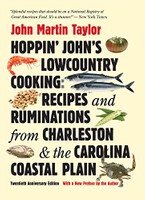 The Lowcountry meal is seldom a series of courses in the French manner, although a sideboard brimming with offerings from soups to nuts is not unusual. The food itself is often the entertainment at social gatherings such as the barbecue, the oyster roast, and the fish fry. Everyone pitches in and joins the cooking, then sits down at the communal table when all the food is prepared.
We take our oysters so much for granted that to serve a few of them as an appetizer before a meal seems an insult to a palate jaded by bushels of them. Most Sandlappers enjoy their oysters straight, opened outdoors around tables made from giant cable spools.
At Christmas in my family, the large meal may begin at any time from midmorning to midafternoon, but outdoors there is a bushel or two of fresh local oysters, iced Champagne, and oyster knives so that we can help ourselves to these "starters" at our own individual speeds. Even the children must fend for themselves. Inside, bowls of roasted pecans and tins of cheese straws shaped like pigs keep hunger at bay.
Except at the most formal dinner parties, the structure of most meals here remains informal. Trays of game pâtés or shrimp paste may be set out with crackers, and celery ribs stuffed with pimiento cheese might be passed, but these starters are mere snacks until we sit down to a dinner of lovingly conceived plates of complementary foods.
Lowcountry soups are more often than not hearty gumbos and stews. Some of our finer vegetable soups, such as sorrel and fennel, make excellent starters (see Chapter 10). Our best soups, such as she-crab, are complicated to make when prepared properly. They make fine beginnings to meals but are often featured luncheon dishes.
Tomato aspic is the one salad eaten with frequency at the beginning of the traditional Lowcountry meal. Harriet Ross Colquitt explained why in The Savannah Cook Book in 1933: "No salads are included in this book, because they are not especially Southern, and because we agree with the French that nothing can improve the simple method of marinating with good dressing lettuce, escarole, or endive, and letting it go at that. Adding anything to this is but painting the lily." Salads are treated as vegetables (Chapter 10).
These typical starters are not, then, just "appetizers." Boiled peanuts deserve a category all to themselves. Black bean soup is a common Lowcountry supper. Corn oysters are fried and served alongside fish in lieu of hushpuppies. These are some of our favorite foods—our preferred snacks.
© 1992 All rights reserved. Published by UNC Press.