Appears in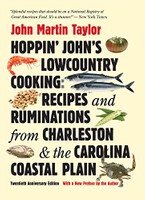 If I want broiled fish, I use the gas grill. Sometimes an oven comes in handy, especially if I have a crowd for dinner and I'm out of propane. Baked fish is best when kept simple, and I treat both whole fish and fillets similarly for the oven and the grill.
Preheat the oven to 350°. Sprinkle oily fish with freshly squeezed lemon juice. Salt and pepper the fish and splash with white wine if desired. Place the fish (fillets go skin side down) on a lightly oiled baking sheet or in a baking dish in the center of the oven and bake until the flesh flakes easily with a fork. Thin fillets will take about ten or fifteen minutes; whole fish, about ten minutes per inch of thickness. Test often, so you won't overcook the fish. Serve with lemon wedges or with a lemon butter made by whisking fresh lemon juice and chopped parsley into barely melted butter.
© 1992 All rights reserved. Published by UNC Press.