Appears in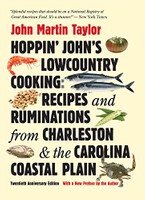 Shrimp are the backbone of Lowcountry cooking. The cries of street vendors calling "Swimpee! Raw swimpee!" fill Charleston's novels and histories. Shrimping is such a popular pastime that long before the sweet little creek shrimp appear in the marshes the K Marts and tackle shops sell out of the five-, six-, and seven-foot cast nets that will haul them in by the thousands of pounds. Every year I hear of more and better baiting techniques. No sooner do I hear complaints of one well-known hole being shrimped out than people start pulling them in from the Battery in downtown Charleston. I have a friend who fills a pair of panty hose with a mixture of pluff mud and fish meal and comes back later to pull out a surrealistic shrimp-covered garment from the banks of the Ashley River where she's left it.
Nothing quite matches the flavor of freshly caught shrimp. They are infinitely better when cooked with their shells on or in precious liquids reduced from their shells, yet few people bother. I was tempted to include just one recipe for shrimp (the only one you really need to know), but will state it simply here as the guideline. It is the classic Edisto Island recipe, always told in Gullah, the dialect of the Sea Islands: Sree minute, off de hot, out de pot, dey ready.
It is a perfect recipe, which, translated into plain English, reads:
Bring a pot of seasoned water to a boil. Add unpeeled shrimp. Do not let it come back to a boil. Count three minutes and remove the shrimp. Peel and eat. If the shrimp are to be used in another recipe, such as shrimp paste or pickled shrimp, season the water with salt only. If they are to be eaten plain, add some seafood boil. The important thing to remember is never to let the water return to a boil. The three minutes is the time for large (fewer than 25 per pound) shrimp; medium shrimp (35–45 count) need cook for only two minutes; small (more than 50-count), for one. If you are cooking more than two or three pounds, you may have to leave the shrimp in a little longer. They should be pink and firm, but still tender. Immediately pour them into a colander to drain. They will continue to cook after they are removed from the water; taste one. If it is the least bit rubbery, run cold water over the shrimp or plunge them into ice water to stop the cooking, but drain them immediately if you do, and sprinkle some more salt over them.
Old Charleston cookbooks call for a plate of shrimp, which means a pint of peeled shrimp, for dishes such as pilau and soup. When I have not been shrimping myself and am forced to buy shrimp, I always buy from small local vendors—or from the boats—who sell heads-on shrimp caught within the last twenty-four hours and untainted by dubious "preservatives." In cities such as New York you can find fresh heads-on shrimp (I have found them in Chinatown and at Fulton Market in New York City) if you look hard enough, but they too may be coated with chemicals. Shrimp heads rot and fall off very quickly, but when fresh they hold nearly all of the flavor. If you don't live in the Lowcountry or in a coastal area where you can get to the shrimp as soon as they come to shore, you may be better off buying "fresh frozen" shrimp, which are immediately headed and flash-frozen aboard the shrimp trawler so that they may be shipped. If you are simply boiling or sautéing the shrimp, give everyone an extra napkin or a finger bowl and cook them with their shells on. And if the shrimp are to be incorporated into another dish—such as Shrimp Pilau—make a stock out of the shells.
If shrimp are the backbone, then crab and oysters are the heart and soul of Lowcountry cooking. Crab is my favorite cooked food, but nothing compares to raw Lowcountry oysters. The Lowcountry oyster roast is a unique outdoor celebration. Rustic giant cable spools are common on the lawns of some of our most historic houses: they are the perfect height for opening oysters, which is done while standing. A log fire is built on the ground. Concrete blocks support a piece of sheet metal that sits a foot above the fire. Raw oysters from the surrounding marshes are laid on top of the sheet metal, then covered with soaking wet croaker sacks (so called because they hold the frog-gigging catch, they would be called gunnysacks elsewhere), so that the oysters steam. Packages of saltines and bowls of cocktail sauce (usually "homemade" of tomato catsup and horseradish) and melted butter are placed on the oyster tables, but most Sandlappers prefer the salty local oysters plain. Everyone fends for himself and brings his own oyster knife and glove. We take turns manning the fire; a shovel is the only tool used. Empty shells are returned to the marsh or laid in driveways.
Sandlappers tend to stand at the tables and open raw oysters for an hour before eating steamed ones. They are best when just heated through, so that they open more easily than the raw ones, without having lost their tangy juice. A serious oyster eater can devour a bushel; I get a bushel of oysters for every five people invited. No matter how few guests there are, a keg of beer is always a wise addition. Standard kegs hold 240 eight-ounce cups. At outdoor parties people will drink. In the Lowcountry, with its three-hundred-year history of heavy imbibing, you must count on four beers plus one glass of wine per person.
© 1992 All rights reserved. Published by UNC Press.