Appears in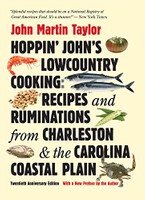 When Henry William Ravenel published his findings on the fungi and lichens of South Carolina in the 1850s, it was the first written treatise on American mushrooms. But early manuscripts and published works found in the papers of Lowcountry families had long referred to cooking mushrooms—stewed, pickled, put up in catsups, and dried. The earthy flavors of fungi, esteemed in both France and England whence came so many Carolina settlers, married well with the poultry and rice dishes of the area and complemented the game of the plantations. Sarah Rutledge included a "German receipt" for a mushroom soup in her 1847 Carolina Housewife, as well as a white fricassee of the fungi. In the Lowcountry mushrooms often mean chanterelles.
When the rains of August and September come to the Lowcountry, coupled with the longer, cooler nights, chanterelles pop up under stately oaks, dotting lawns with splashes of their bright apricot color. Hampton Park is the former site of the South Carolina Interstate and West Indian Exposition that took place in 1901-02 to attract tourism and business to the state by showing off its peculiar resources. Built north of the city on the site of a private horse track, the exposition—really a "world's fair"—was meant to inject some spark into an economy still crippled from the Civil War and Reconstruction. The Carolina Rice Cook Book of 1901 was a favored souvenir. The park, which is filled with chanterelles, is now surrounded by an inner-city suburb, with houses built in the first half of the century. In no neighborhood in America is racial integration more prevalent and long-standing. Hampton Park has provided several fanatics such as me with plenty of the distinctive fungi for years.
If you take mushrooms from the wild, please be responsible when you do so. In many areas sources have been depleted by the greedy. A pocket or paring knife or a pair of very sharp scissors should be used to snip the mushrooms off at ground level so that genetic information is left behind for next year's crop. Leave the smaller mushrooms and extremely dirty ones behind. And take only what you yourself will use. In South Carolina it is illegal to sell natural items from the wild without a license, and with good reason. If local chanterelles were sold in restaurants, our local supplies would quickly be depleted, with the millions of tourists that come to Charleston each year.
Given our sandy soil, it is hard to find local chanterelles that are not without grit; but no mushroom benefits from coming in contact with water. On the old plantations along Lowcountry rivers, chanterelles grow on the vast lawns that spread out under the towering old live oak trees. Mushrooms that crop up through thick grass will not be sandy. If your chanterelles are dirty, try brushing the gill-like crevices with a pastry or mushroom brush to remove any dirt; or place the mushrooms on a screen outdoors and spray them with the finest mist from your garden hose. As a last resort, wash them quickly under running water, being sure to let them drain from a rack, and lightly pat them dry before using them.
Other edible species of mushrooms such as field mushrooms (an agaric not unlike the cultivated variety at every American grocery store), puffballs, and morels grow in the Lowcountry and have graced the tables of the knowing for more than 200 years, but their growth is too sporadic and unpredictable for them to be considered real Lowcountry fare. When the field mushrooms would crop up in our yard, my mother would send me out to pick the large, fully opened ones for our table. They were invariably simply prepared—sautéed in butter and added to an omelet or sliced raw and added to a spinach and bacon salad, then topped with a soft-boiled egg.
Though chanterelles are almost unmistakable, unless you are absolutely sure of their identity (or of any wild mushroom), of course you should not eat them.
© 1992 All rights reserved. Published by UNC Press.