Appears in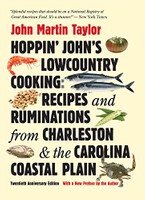 The ridiculously sweet tooth of southerners has historical roots in Charleston harbor. Sugar and dried fruits, chocolate and bonbons, and fresh fruits from the Caribbean have been imported into the "Holy City," as it's called, for well over two hundred years. It's hard to classify many Lowcountry sweets: sweet potato pie might accompany a meal or follow as dessert; tea fare shows up at the breakfast table. Some pickles, such as watermelon rind preserves, are very nearly candy. There are Mediterranean and African influences, though most of our desserts can be described as typically country French and English.
On the other hand, the very best Lowcountry desserts are simply fresh fruit. Cantaloupes are splashed with port and dusted with black pepper; figs are anointed with ratifia. Watermelon, native to Africa, is grown all over the Lowcountry; it is often the dessert at summer picnics and beach weekends. When the weather is suffocatingly hot, fresh berries suffice. And no Christmas stocking is without fresh oranges from points south and apples from the mountains. Ambrosia, made with fresh coconuts, is truly heavenly; a child can make campfire cobbler.
Some very old recipes, like gingerbread, have not changed in centuries; just as many, such as the loquat tart, are brand-new. There are simple custards and delicate tortes; foods from Africa as well as the courts of Europe. And pies, like the English pudding, at every meal.
There are cakes and cookies and puddings and candies, as well as sweet yeast breads, chocolate, and mint. Orangeburg, on the Edisto River, was settled by Swiss and Germans. Its cookbooks brim with cookie recipes. In Charleston, with its great port, eighteenth-century receipts feature coconuts and bananas fresh from Cuba. The Lowcountry kitchen is justly famed for its custards, creams, and ice creams; its pies and cobblers; its cakes and cookies; its candies; and its fresh fruit. These are some of our most delicious foods.
© 1992 All rights reserved. Published by UNC Press.