Appears in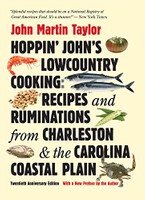 Loquats are the first fruits to ripen in the Lowcountry. Mulberries, blackberries, and blueberries follow closely behind. In May, Sea Island melons begin to appear on the vines, and clingstone peaches arrive at the Charleston Farmers Market from the orchards an hour inland. Pomegranates, best enjoyed out of hand, are popular courtyard trees in Charleston. Summer meals in the Lowcountry are often just fresh vegetables; dessert is fruit.
Watermelons, native to Africa, are an important crop in the Low- country. The Charleston Gray is a national favorite. I have seen that variety grow nearly 3 feet long. When we were children (and local waters were unpolluted), our parents would send us out on the beach with long slices of watermelon as dessert after a meal of sliced tomatoes, cucumbers, corn on the cob, crowder peas, and rice. We would take the slices with us into the surf, beyond the breakers, where we would alternately swim and eat, letting the melons float in the salty water. To this day, I prefer desserts that feature fresh, local fruits. I never turn down a slice of melon.
© 1992 All rights reserved. Published by UNC Press.