Appears in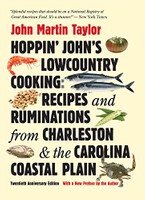 Charleston's history of imbibing is legend. Robert Rosen's A Short History of Charleston includes a half-dozen entries about the city's drinking habits; Charleston! Charleston! by Walter J. Fraser, Jr., is a social history of the city that portrays a hedonistic upper class and a debauched citizenry. Rosen quotes the historian Carl Bridenbaugh: "The importation of liquors at Charles Town in 1743 staggers the imagination—1500 dozen empty bottles, among other items, to be used for 'six months' supply' of 1219 hogsheads, 188 tierces, and 58 barrels of rum."
Drinking, however, was by no means restricted to the taverns. When Josiah Quincy, a gentleman from Massachusetts, dined at the elegant home of Miles Brewton, he had "By odds the richest wine I ever tasted." Eliza Lucas Pinckney, a lady planter, recorded in her receipt book of 1756 the recipe for the ratifia that follows, as well as one called the Duke of Norfolk Punch. Punch recipes have been passed down for generations: Charleston Receipts begins with twenty pages of drink recipes, many of them for punches that serve hundreds.
Fine old Madeira, sherry, and port, as well as the ubiquitous claret, fill eighteenth- and nineteenth-century Charleston estate inventories. At Mid-dleburg, the oldest house in South Carolina, arrows written in chalk on the wall in the wine closet point to the house store of "Port 1830" and "Madeira 1832." The house was home to descendants of Benjamin Simons for more than two hundred years. A Champagne bottle dating to the 1870s was unearthed under the kitchen building; by then the family owned all the property on that side of the Cooper River north of Charleston.
Henry Laurens was a Charleston merchant and planter who served as president of the Continental Congress while Washington was at Valley Forge. He was, like Thomas Jefferson, an avid gardener, a gastronome, and a wine connoisseur. His correspondence with a London wine merchant with Oporto connections reveals much about the consumption of spirits in Charleston in the 1760s:
You could scarcely have fallen upon a more unlikely article for the Carolina Market than Wine. This is almost always the case as many Gentlemen on your side the Water can witness, but it is rather worse now than I have known it (I mean the Market) to be for 15 or 20 Years past. We have lately had no less than 1,250 pipes of Madera & Canary Wines fairly imported besides no small quantity from Lisbon, & Ca., which supplies the demand of purchasers tho it makes no appearance at the Custom House. Some hundred pipes of Madera, Vidonia, & low Claret have been from day to day selling at public Auction. . . .
This is an admission not only (as the editors of Laurens's papers noted) that some wines were smuggled into Charleston, but also that Charlestonians were risking punishment to obtain the spirits they wanted at the best price. Wine was forever available on the black market. After a century of trying to temper the Charleston drinker with laws, Rosen notes, "In the 1970s the state of South Carolina gave up and passed a 'mini-bottle' law that allows the rest of the state to do what Charlestonians had been doing all along—drinking in bars and restaurants."
Laurens was no dilettante; he knew good beer and wine. Of a shipment of nineteen cases of bottled ale and three of claret that he received in 1764 from a Glasgow shipper, he wrote, "The former is very good & I cou'd have sold it ere now if I wou'd have taken less than 60/ per dozen which people do not care to give at this time of Year. The Claret is by no means approved of or I shou'd have sold it upon tryal & I know not what to do with it." Laurens also knew grape cultivation, and tried his hand at winemaking: "This vine of mine has given Spirits to our New French incomers; 'tis said by many Gentelmen to be as fine as any they have seen in Lisbon or Spain & the French cry out, C'est beau et bon."
When John Bartram, the naturalist, visited Laurens a year later, he measured "A fine grape vine seven inches & half Circumferenc[e.] Bore 216 clusters, one of which measured eleven inches in length & sixteen & A quarter in circumference." The vines, like the olive trees Laurens had cultivated, however, would not continue to produce; it is said the soil is too rich.
Iced tea surely must be the most common drink in the Lowcountry; nearly everyone drinks it, several glasses at a time. Still, very few restaurants know how to make it properly. A recipe follows.
Like the early gastronomes of the Lowcountry, I prefer my meals with red wine. But what is most important is to please your own palate. While I recommend wine with most food, the typical Lowcountry liquor cabinet contains spirits of all sorts; refrigerators always hold some beer. The drinks that follow the iced tea and lemonade are all for special occasions.
© 1992 All rights reserved. Published by UNC Press.